Mondays, thru November 19
PRE-REGISTRATION AND/OR CLASS CARDS REQUIRED. Class cannot be purchased in person.
NOTE: For the most up-to-date information on class cancellations or changes, please visit our Facebook Page. For additional information, contact Michelle@PorchlightMusicTheatre.org.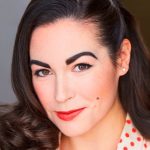 This class is designed for musical theatre actors seeking to become reacquainted with the basics of ballet technique. Whether you are interested in preparing for auditions or maintaining your familiarity with ballet, this class aims to improve your recognition of vocabulary and steps commonly used in musical theatre choreography. In an encouraging, no-pressure environment, students will focus on strength, flexibility, and dexterity while becoming grounded and more confident in the foundation of their technique. The class follows a traditional structure of barre work, center exercises, and movement across the floor
Kayla Boye is a performer and choreographer who was last seen in Anything Goes at Music Theater Works. Recent choreography credits include Damn Yankees, Bye Bye Birdie (Wilmette Center for the Arts), Mary Poppins, and Legally Blonde (Youngstown Playhouse). Assistant choreography credits include Billy Elliot (Porchlight Music Theatre), Gypsy (Music Theater Works), Carousel, Bye Bye Birdie, and The Drowsy Chaperone (Huron Playhouse).
Her Chicago performance credits include South Pacific (Drury Lane Theatre), Billy Elliot, New Faces Sing 1969, Little Me (Porchlight Music Theatre), Mary Poppins (Mercury Theater Chicago), Gypsy, Mame (Music Theater Works, formerly Light Opera Works), and A Christmas Story (Citadel Theatre).
She began her dance training at Great Lakes Festival Ballet in Ohio and has studied at Ballet Western Reserve, Broadway Dance Center, Lou Conte Dance Studio, and Dovetail Studios. She
holds a BA in professional writing and editing from Youngstown State University and is certified through the Nonprofit Leadership Alliance. As an administrator, she has worked in development, marketing, and finance for Goodman Theatre and Writers Theatre. She is an associate consultant for Artistic Fundraising Group, providing grant writing and fundraising services for various nonprofits. www.kaylaboye.com