Box Office Phone: 773-777-9884 — Box Office Hours
Runtime: 2 1/2 Hours
MUST CLOSE DECEMBER 31
Billy Elliot the Musical is based on the 2000 film "Billy Elliot" and features music by Elton John with book and lyrics by the film's screenplay writer Lee Hall. Winner of both the Tony Award and Olivier Award for Best Musical, Billy Elliot the Musical is an inspirational story set in an English mining town during the miners' strike of 1984-85. Billy Elliot takes a journey from the boxing ring to a ballet class to make his dreams come true while challenging the long held beliefs of his hometown. Along the way, he discovers a passion for dance that unites his family, inspires his community and changes his life forever.
Billy Elliot the Musical is recommended for ages 13+. Please be advised that there is strong language, violence and some sensitive subject matter that is true to the story and plot. Parental guidance is suggested. Children under the age of 6 are not allowed.
Music by Elton John and book and lyrics by Lee Hall, with direction and co-choreography by Porchlight Artistic Associate Brenda Didier,  co-choreographer by Craig V. Miller and music direction by Porchlight Artistic Associate Linda Madonia.
Meet The Cast Meet The Creative Team Reviews
Videos History & Context
"I'm sure I'll see "Billy Elliot" again, although my long journey with this show feels complete now. Here it is, one more time, affordably priced but soul intact, ideal for families, bursting with veracity and heart, open for business in the city for which it was made."

– Chris Jones, Chicago Tribune (Read More)
---
Our Largest Cast Ever!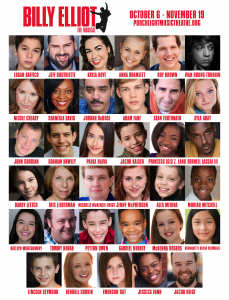 The cast of Billy Elliot the Musical will be the largest in Porchlight's history and includes Jacob Kaiser and Lincoln Seymour sharing the title role of "Billy Elliot;" Shanésia Davis*, "Mrs. Wilkinson;" Sean Fortunato*, "Dad;" Iris Lieberman*, "Grandma;" Adam Fane, "Tony Elliot;" Peyton Owen, "Michael Caffrey;" Nicole Cready, "Mum;" "Princess Isis Z. Lang, "Debbie Wilkinson;" with Jordan DeBose, "George/Ensemble;" Gabriel Robert, "Small Boy;" John Gurdian, "Big Davey/Ensemble;" Michelle McKenzie-Voigt, "Lesley/Ensemble;" Jeff Bouthiette, "Scab/Posh Dad/Ensemble;" Tommy Novak, "Mr. Braithwaite/Ensemble;" Ivan Bruns-Trukhin,"Older Billy/Ensemble;" Bernell Lassai III, "Pit Supervisor/Ensemble;" Logan Baffico, "Posh Boy;" Alejandro Medina, "Tall Boy;" Jessica Vann, "Clipboard Woman/Ensemble;" Graham Hawley, "Accordion Player/Grandma Dancer/Ensemble;" Jacob Voigt, "Ensemble;" Roy Brown, "Ensemble;" Jenny McPherson, "Ensemble/Grandma Dancer;" Kayla Boye, "Ensemble;" and Darby Leetch, "Alison Summers;" Moriah Mitchell, "Keeley Gibson; Paula Hlava, "Angela Robson;" Anna L. Bramlett, "Julie Hope;" McKenna Rogers, "Karen Davidson;" Emerson Tait, "Sharon Percy;" Katelyn Montgomery, "Margaret Gormley;" Kendall Sorkin, "Tina Harmer;" Ayla Gray, "Tracy Atkinson" and Bernadette Olivia Schwegel, "Susan Parks."
Additional members of the creative/production team of Billy Elliot the Musical include Porchlight Artistic Associate Bill Morey, costume designer; Denise Karczewski, lighting designer; Christopher Rhoton, scenic designer, Robert Hornbostel, sound designer; Mealah Heidenreich, props designer; Adrian Abel Azevedo, assistant director; Kayla Boye, assistant choreographer/dance captain; Sara Haverty, assistant to the choreographers/associate child supervisor; Sammi Grant, dialect coach; Jaq Seifert, fight choreography; Sean McStravick, stage manager*; Corey Boughton, assistant stage manager*; Matt Nadler, assistant stage manager; Shannon Desmond, assistant stage manager; Joaquin Gomez, child supervisor/ASM swing and Samantha Treible, wardrobe supervisor.
Musical Director Madonia conducts and is the pianist with musicans Justin Kono, drums/percussion; Cara Hartz, reeds; Sarah Younker, french horn; Greg Strauss, trumpet; Justin LaForte, guitar and Dan Kristan, electric bass.