Mondays (September 11 - October 30)
Tickets
$90 full session (prorated weekly) $12 drop in
"Fierceography" is a fusion of Jazz, Hip-Hop, Modern, & Contemporary dance. In this class you will receive a full dose of conditioning, strengthening, and technique and then we'll slip on some heels and slay some original choreography. This class is about confidence and empowerment. All levels. All Genders. All Welcome. Just be ready to sweat, wErk, and have some fun!
This class is not only geared towards performers, but for those wanting to improve and develop their abilities, and receptiveness to choreography. It will contain portions that concentrate on core strength, balance, and stamina, followed by a full choreo session. New choreography will be presented every week, so Drop-ins are more than welcome.
What to bring:
Water bottle
Hand Towel
Heels

boots, shoe-boots, or pumps
stacked heels are preferred
should have some sort of ankle support
perfect fit (they should feel secure, but not too tight, and not loose or unstable)
NO wedges
NO needle-point stilettos

Yoga mat (not necessary, but some find helpful for floor work)
Ankle wraps (particularly if you're heels do not have ankle support)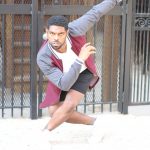 Most commonly known as an actor, Breon Arzell began his dance career later than most. This Detroit native always had a love for dance, but not always the opportunity. He received his first training while at Miami University, as the member of a student founded dance company. Since then, he has worked as a dancer, choreographer, and instructor, at LaShelle's School of Dance (Detroit), A.C.L.E. Theatrino (San Remo, Italy), Joel Hall Dancers & Center (Chicago), and The Goodman Theatre (for their Musical Theater Program). Developing his own style of dance and storytelling, his breakout premiere as a Chicago choreographer, The Hairy Ape (Oracle Productions), landed him a 2016 Joseph Jefferson Award, and a place in the Chicago theater community. Other credits include: The Wiz (Kokandy Productions), Scottsboro Boys (Porchlight Music Theatre), The House that Will Not Stand (Victory Gardens), Julius Caesar (Writers Theatre), and more. His talents have allowed him to work all across the U.S., Canada, England, Italy, Germany, Denmark, Singapore, & Malaysia. *Hip-Hop, Jazz, Modern, Lyrical, Contemporary, & Step* www.breonarzell.com
Getting Here
4200 W. Diversey Ave Chicago, IL 60639
Directions
The Porchlight Rehearsal Studio is located just west of Pulaski Avenue. Free parking is available along Diversey Ave, connecting side streets or in the adjacent parking lot. By Public Transportation, the #76 bus pulls right up in front; get off at Tripp!