NOTE: For the most up-to-date information on class cancellations or changes, please visit our Facebook Page. For additional information, contact Jillian@PorchlightMusicTheatre.org.
Ever felt your stomach drop when you find out you have to do a "dance call" or a "movement call?"  Don't let fear stop you.  Learn how discover the musicality in your own body, pick up and execute physical phrases with grace and style, and even have fun doing it.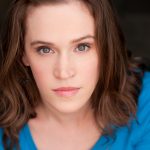 Amanda Compton LoPresti is a singer, dancer, teacher, and choreographer based in Chicago.  Her unique training as both a dancer and classical singer has helped her carve a niche in operatic and musical theater houses, both regionally and internationally, with companies such as the Glimmerglass Festival, Hawaii Opera Theatre, Theatre du Capitole (Toulouse), Opera National de Bordeaux, Drury Lane, Theatre at the Center, Chicago Music Theatre Works, and the Chicago Symphony Chorus.  She has been a teaching artist and choreographer with the CSO at IYC-Warrenville for at risk youth, Chicago Opera Theatre, and the Chicago Composer's Orchestra.  She's a proud graduate of Illinois Wesleyan University, and the University of WI-Madison.