Wednesdays, starting September 12
Tickets
$70 per session or $12 per drop in class
NOTE: For the most up-to-date information on class cancellations or changes, please visit our Facebook Page. For additional information, contact Michelle@PorchlightMusicTheatre.org.
BACK FOR FALL 2018!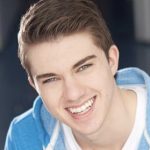 This course is designed for the musical theater performer who titles themselves as "more a mover than a dancer" and how to best navigate and walk away from any dance call feeling confident and proud. Whether it is the inability to pick up choreography, understanding style/technique or just feeling uncomfortable moving their body that way, this class will tackle all of these common issues.
Each week, students will be led through a short ballet barre focusing on the fundamentals of technique, an efficient jazz warm up to improve flexibility and body awareness, and a comprehensive across the floor to address footwork and dance vocabulary that can feel overwhelming. The second half of class will be a faux dance call that changes in style every week while dissecting different methods of retaining choreography and interpreting iconic musical theatre styles, including tap!
By the end of this course, Cameron hopes students will be able to eliminate any uncertainty or dread when attending a dance call and to draw on enhanced confidence and pride to find their inner triple threat!
Getting Here
4200 W. Diversey Ave Chicago, IL 60639
Directions
The Porchlight Rehearsal Studio is located just west of Pulaski Avenue. Free parking is available along Diversey Ave, connecting side streets or in the adjacent parking lot. By Public Transportation, the #76 bus pulls right up in front; get off at Tripp!