Wednesdays & Thursdays, August 9 - 24
Tickets
$225 for the session, $12 to audit (non participatory)
Similar to a "scene study" class, this course will focus on the technical aspects of acting a song in musical theatre. Students will first approach their songs in show context, to fully flesh out the circumstances of the musical moment. Then, as a class, we will identify the components of that experience that are useful in an audition context. The goal of the class is to strengthen the actors' ability to analyze a song, apply strong vocal and acting chops to it, and tailor their performance for either the audition room or the stage.
NOTE: Students should just bring their sheet music with the song selections they want to work. They should be sure to have the FULL version of their songs, not audition cuts. We'll talk through audition cuts, but we will need the entirety of the song for our work.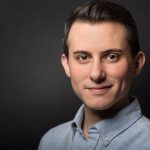 Tom Vendafreddo is a Chicago-based actor, music director, and conductor. Chicago credits include: Jesus Christ Superstar, Sweeney Todd, Little Mermaid, Mamma Mia!, West Side Story, Hairspray, A Christmas Story, Oklahoma!, Les Misérables, The Who's Tommy, Mary Poppins, and In the Heights (Paramount Theatre). On the Town and Godspell (Marriott Lincolnshire); Madagascar, RoadShow and Shrek  (Chicago Shakespeare Theatre); Company and Sweet Charity (Writers Theatre); and The Spitfire Grill (Bohemian Theatre Ensemble). Select regional credits include: The Who's Tommy (Music Theatre Heritage), Murder for Two (Mason Street Warehouse), Rent (San Diego Musical Theatre), The Wedding Singer (Red Mountain Theatre Company) and Forever Plaid (Chestnut Fine Arts), and Odyssey (Old Globe Theatre). In 2014, Tom became the founding artistic director of the Chicago Artists Chorale, a nonprofit choral organization comprised of professionals from the Chicago arts community. BM (Vocal Performance and Music Education): Eastman School of Music. MFA (Musical Theatre): San Diego State University. Proud member of Actors' Equity. This Fall, Tom will appear as Chip Tolentino in Capital City Theatre's production of …Spelling Bee, and then he happily returns to the Paramount Theatre as resident Music Director/Music Supervisor. http://tomvendafreddo.com/
Getting Here
4200 W. Diversey Ave Chicago, IL 60639
Directions
The Porchlight Rehearsal Studio is located just west of Pulaski Avenue. Free parking is available along Diversey Ave, connecting side streets or in the adjacent parking lot. By Public Transportation, the #76 bus pulls right up in front; get off at Tripp!