September 23 - December 20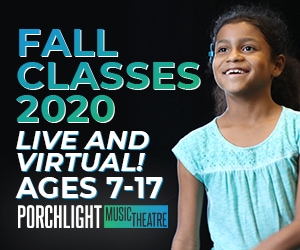 Fall Youth Classes 2020 Now Open! 
Live and Virtual Options
Ages 7-17 
Porchlight is proud to be Chicago's home for music theatre and believes in the power of studying theater to build self-confidence, creative thinking, and open us all up to be more empathetic and caring humans. Our youth classes are designed to build sequentially, with our youngest actors learning basics, up to our most advanced young artists creating a full production. Your young artist is welcome to join us at any stage!
---
BROADWAY BASICS • AGES 7 – 10
Offered each Fall and Spring term
Saturdays, 11:30am – 1:00 pm
September 26 – December, 19 (no class 11/28)
$400, 12 week session
Enter the world of music, drama, dance, writing, and more while practicing teamwork, communication, and problem-solving. Actors will be introduced to their actor tools, with lots of time for playing games and making new friends. At the end of the session join us for a final performance to celebrate all your young actors' work!
---
MUSICAL THEATRE BOOTCAMP • AGES 11 – 13
Offered each Fall and Spring term
Saturday 1:00pm – 3:00 pm
September 26 – December, 19 (no class 11/28)
$500, 12 week session
Intermediate actors build on the basics to learn about building an ensemble, singing in harmony, and creating more challenging characters. Actors will write their own story paired with musical theatre classics and new hits to share with family and friends at the end of the term!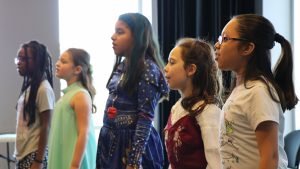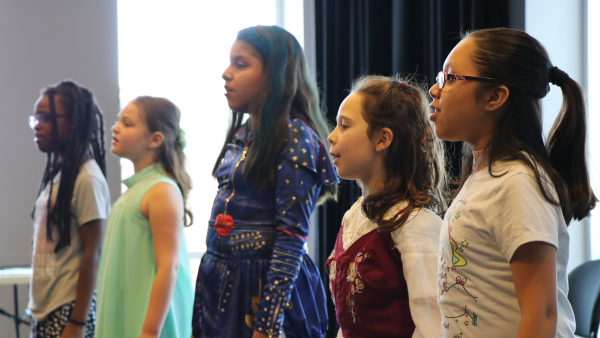 Financial aid is available for all youth programming by emailing rebeccah@porchlightmusictheatre.org or filling out this application.
---
CAMP/CLASS POLICIES
Drop Off/Pick Up Policy 
Drop off begins 15 before camp or class begins and ends 15 after camp or class ends. We cannot accept any students prior to this window.
Please note a fee of $1/min will be charged for pick ups occurring 15 after camp or class has ended to compensate the staff for their time.
A photo ID must be presented at pickup to sign out a child. Teaching Artists will have a list of authorized pick up people. No one will be allowed to pick up a child who is not listed as an authorized pick up person. To add people to the authorized pickup list, email rebeccah@porchlightmusictheatre.org. If you would like your child to be able sign themselves out, we will ask you to sign an additional waiver.
Cancellation Policy
Porchlight Music Theatre has the right to cancel a class up to one week prior to the start date. Refunds will be processed if a class or camp is cancelled.
No refunds available if a purchaser drops a camp unless the spot can be filled from a waitlist.
Porchlight Music Theatre has the right to determine minimum enrollment. A refund will not be processed if a purchaser believes the enrollment to be too low.
Switching/Refund Policy
No refunds are available if the purchaser drops a camp unless the spot can be filled from the waiting list. If a spot can be filled, a refund will be given.
Transfers towards a different camp or class session may not be possible.
Nut Free Policy
All Porchlight Music Theatre programs are nut-free environments to ensure the safety of all participants. No sharing of food is allowed, even between siblings. Depending on child allergies, we may ask you to refrain from bringing additional food items (such as strawberries, sesame, etc) as well.
---
Scholarships for Youth Programming
Full and Partial Scholarships are available for all Porchlight Music Theatre youth programs.
Scholarships are awarded based on need and interest. Please notify us at the time of application if there are barriers such as transportation or food assistance needed so we can best serve your family.
Families are welcome to apply for multiple programs throughout the year, but only one scholarship per child per program will be awarded.
Please be prepared to verify all information included in the application for our records.
Apply for a scholarship to our youth education offerings here. 
Donate to our youth education offerings here.
Please reach out to rebeccah@porchlightmusictheatre.org with any questions
Scholarships Provided due to generous donations from