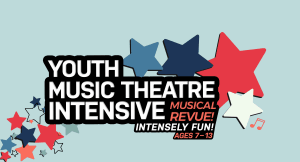 Warm up this winter with six Saturdays filled with singing, dancing, fun and learning at Porchlight's West Logan Square studios—culminating with a performance for family and friends on the Porchlight mainstage at the Ruth Page Center for the Arts at 1016 N. Dearborn! With top-of-the-line training from professional Chicago actors working at some of the area's biggest theatres (including Porchlight!), each session is a high-energy immersion in singing, acting and choreography for all skill levels, experienced through assembling a revue featuring various styles of music theatre. On the final day at Ruth Page, the group will "tech" and perform the revue they've created, and also be treated to an exclusive tour of the theatre's backstage and front-of-house operations by Artistic Director Michael Weber. Meet new friends and learn new skills in this INTENSELY FUN music theatre experience!
Expand Your Skills and Gain New Ones!
Porchlight Music Theatre is committed to giving every student, regardless of current skill level or previous experience, the chance to feel like a star. Regardless of where an attendee starts, we offer them the tools and tips to grow their skills and their confidence.
Over the course of the 6 weeks attendees will work on:
Song Performance – Learn how to "act a song" and gain new confidence in vocal and acting abilities.
Choreography – Whether an experienced dancer or brand new to any kind of movement, your child our teaching artists will work with them on basic musical theatre dance steps and teach students challenging, but doable choreography to exciting Broadway numbers!
Musical Theatre Styles – Musical theatre has changed dramatically, and thanks to shows like Hamilton and Dear Evan Hansen, more young people than ever are interested in Broadway Musicals! Porchlight Music Theatre believes it is important to expose young people to the various sub-genres of musical theatre in order to make them well rounded performers! Attendees will explore performing numbers from various eras and genres, while gaining a better understanding of how Broadway has evolved!
A Musical Revue – Throughout the course of the class, attendees will put their newfound knowledge to good use as they rehearse a musical revue to be performed for friends and family at the culmination of class. The revue will explore various styles of the genre and give every attendee their chance to shine!
Confidence – Most importantly, Porchlight Music Theatre wants every child who takes a class with us to leave feeling more confident than they arrived. Whether your child dreams of seeing their names in lights or not, the performing arts have proved to help children in many other aspects of their lives at school and at home.
Financial assistance is available; contact Rebeccah Singer, Education Director, at rebeccah@porchlightmusictheatre.org.