Available for listening November 27 - December 20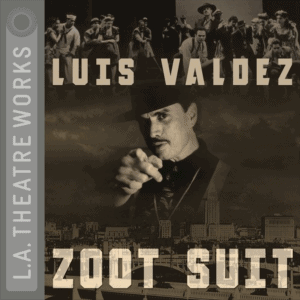 Chicano playwright Luis Valdez masterfully uses the Sleepy Lagoon murder case to examine the Chicano Zoot Suit Culture of the 40's. Passionate and provocative, Zoot Suit pulses with the beat of big band music and traditional Latin songs.
This is the original Audio Theatre broadcast of the Complete Performance recorded before a live audience at the Skirball Cultural Center, Los Angeles in July 2001.
Includes a conversation with Alma Martinez, an original cast member of Luis Valdez's Zoot Suit, both on stage and on film, in the role of Lupe. Since then, Alma has appeared in countless films, television performances, and stage credits, including Broadway, Off-Broadway, regional theatre, and the Mexican and American stages.
---
Once registered, you will have 72 hours to listen to Zoot Suit via the link sent to your email. Porchlight Music Theatre is not responsible for any technical or connectivity issues not in our control.
Access codes, passwords, or other virtual entertainment links may not be transferred or shared.
If you have any questions or comments, please contact the box office via email at boxoffice@porchlightmusictheatre.org or by phone at (773) 777-9884. Box office hours are Tuesday-Friday from 10AM-2PM Central.
---
Porchlight Music Theatre is excited to present this production to you free of charge. If you value entertainment like this, we hope you'll consider a donation today. Your support allows us to continue offering a wide variety of digital content during this unusual season — all free or with low-priced options.
The suggested donation for Zoot Suit is $25.
We appreciate your consideration.
---

Directed by Luis Valdez
Music Directed by Daniel Valdez
Producing Director Susan Albert Loewenberg
Marco Rodriguez as "El Pachuco," Kinan Valdez as "Henry Reyna," Daniel Valdez as "Enrique Reyna," Alma Martinez as "Dolores Reyna," Primavera Flor-Valdez as "Lupe Reyna," Lakin Valdez as "Rudy Reyna/Sergeant Smith/Bailiff/Bosun's Mate," Gregory Itzin as "George Shearer," Xochiquetzal Candelaria as "Alice Bloomfield," Estrella Esparza as "Della Barrios," Ruben C. Gonzalez as "Smiley Torres/Rafas/Swabie," Raul Cardona as "Joey Castro/Marine," Daniel Chacón as "Tommy Roberts/Cub Reporter/Sailor, Katrina Valdez as Bertha Villareal/Newsboy, Seth Millwood as Lt. Edwards/Guard/Shore Patrol," Spencer Garrett as "The Press," Al Ruscio as "Judge F.W. Charles"
L.A. Theatre Works (LATW) was founded in 1974 to give voice to underrepresented groups, bring attention to new plays and playwrights, and produce plays that address critical historical, cultural and social issues. In the 1990's, LATW embraced audio recording in lieu of conventional theatrical presentation. Today, LATW is the nation's leading producer of audio theatre, producing world classics, modern masterpieces, contemporary and original works that speak to the issues of our times.
---
FREQUENTLY ASKED QUESTIONS
How will I receive the audio link?  Once registered, you will receive the audio link shortly after registering via the email you used to register for this event. If you have issues finding your link or email, please check your spam or promotions folder. This email will come from boxoffice@porchlightmusictheatre.org, with the subject line: "Thank you for registering for "Zoot Suit!"
When will I be able to listen to the program? Your audio link will be sent to the email you used to register for this event shortly following your completed registration. Once you receive your link, you will have 72 hours to listen.
What if I experience technical difficulties or am unable to listen to "Zoot Suit?" We are not responsible for technical difficulties on your home devices or any issues with your local broadband or wifi. However, there is online support available to help you as best we can. Contact boxoffice@porchlightmusictheatre.org for online support, or call us at 773.777.9884 (Click here for Box Office hours). Please remember that your audio link  will be available for 72 hours from the time it was sent.
What's the refund policy? This event is free of charge, with a suggested donation of $25. There are no refunds for this event.
Is my registration fee or ticket transferrable? No transfers or sharing.