Streaming Ends Sunday, May 23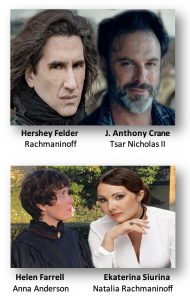 Porchlight is proud to partner with Hershey Felder Presents – Live from Florence on its next live streaming world premiere. Felder stars as Russian composer Sergei Rachmaninoff with with special guests Anthony Crane as Tsar Nicholas II Alexandrovich Romanov, Ekaterina Siurina as Natalia Alexandrovna Rachmaninoff, Igor Polesitsky as Dr. Golitzin and more in the world premiere of NICHOLAS, ANNA & SERGEI.
Taking place as a memory play in the house in which the Russian Rachmaninoff died in Beverly Hills, this is the story of a very strange meeting between Rachmaninoff and Anna Anderson, the woman who claimed to be the sole surviving member of the Romanov Dynasty, the Grand Duchess Anastasia Nicholaievna Romanov. NICHOLAS, ANNA & SERGEI features many of Rachmaninoff's most beloved melodies and music.
The broadcast is now available for latecomers to purchase through May 23. Viewing access for all ends Sunday, May 23 at 11:59pm CT.
Book by Hershey Felder
Direction by Hershey Felder and Stefano DeCarl
Film Production & Live Editing by DeCarli Live film company
Live Broadcast & Sound Design Production by Erik Carstensen
Historical and Biographical Research by Meghan Maiya
Costumes and Hair by Camilla Saccardi
Company Management by Samantha F. Voxakis
Porchlight Music Theatre is a recipient of 50% of ticket revenue generated by sales from our efforts promoting this production. Please purchase tickets via the link above, and thank you to Hershey Felder for including Porchlight as a partner.
This is a third party presentation presented by Hershey Felder. Porchlight is not responsible for its content.

---
Purchase includes on-demand viewing access to the recording of the live-stream (viewable through Sunday, May 23 at  11:59pm CT).