About Porchlight Music Theatre
As Chicago's music theatre center for 25 years, Porchlight Music Theatre has earned a growing and die-hard audience base, as well as national critical acclaim. Porchlight is known for its bold, edgy and intimate style, offering audiences the drama, song and dance "up close" with Chicago's brightest music theatre talents.
The 25th Anniversary Season is Dedicated to the Memory of George K. "Kim" Sargent III
Full Production History
Porchlight Music Theatre is a proud member of: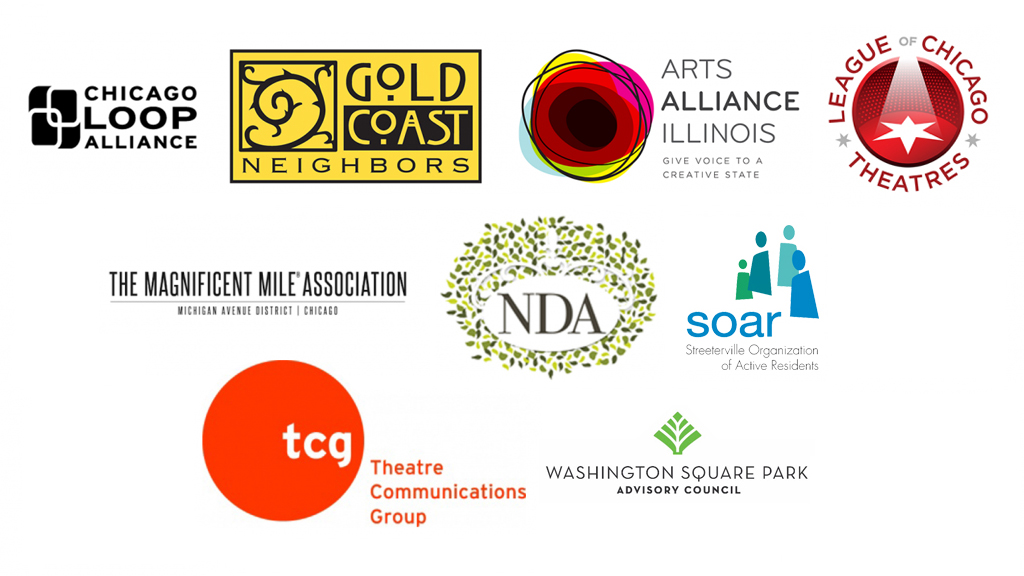 (ABOVE: Angela Ingersoll in "End of the Rainbow." Photo by Kelsey Jorissen)
---
The Mainstage
Over the years, Porchlight Music Theatre has staged more than 70 productions, including many Chicago and world premieres, and has been honored to receive an impressive 167 Joseph Jefferson Award nominations, 44 Jeff Awards (including five consecutive Best Production wins for The Scottsboro Boys-2017, Dreamgirls-2016, Sondheim on Sondheim-2015, Ain't Misbehavin'-2014 and A Class Act-2013), 30 Black Theatre Alliance (BTA) Award nominations, 12 BTA awards, and 28 After Dark Awards
---
Porchlight Revisits: Rarely Seen Musical Gems in Limited Run
Our Mainstage series is just one way to enjoy Porchlight's commitment to the great American genre of music theatre. Our hugely popular Porchlight Revisits series takes a look back at some of the more rarely produced works in the musical cannon with three titles each season in limited three-performance runs.
---
New Faces Sing Broadway: Ten Local Up-and-Comers Presenting One Season from Broadway
Our New Faces Sing Broadway revue series is presented three times per year, one night at The Arts Club of Chicago and one night at SPACE Evanston. Each edition presents the 'hits and misses' of a given year on Broadway, emceed by a local theatre luminary, and showcasing 10 up-and-coming local music theatre stars.
---
The ICONS Gala & Chicago Sings
You can enjoy Porchlight Music Theatre artists at our two annual special events – the signature ICONS Gala held each spring and our always-anticipated Chicago Sings concert each August.
---
Youth Education
Our commitment to the music theatre genre includes celebrating not only the past and present state of the art form, but also in nurturing its future. Through its own youth programming and through partnerships with Chicago Public Schools and local community organizations such as Chicago Youth Centers, Porchlight connects students with the art form, offering an opportunity to pursue training at a variety of skill levels, and makes a big impact on young people's self-esteem, teamwork and communication skills. Porchlight directly offers three youth programs: a Winter Music Theatre Workshop, a Spring Performance Intensive (a junior version of Freaky Friday runs in spring 2020) and our popular "Make Your Own Musical" summer camps including Broadway Basics (ages 7 – 10), Musical Theatre Bootcamp (ages 11 – 13) and Advanced Musical Theatre for Teens (ages 14 – 17). We partner with schools and organizations to provide everything from in-classroom education to after school workshops/camps to helping groups with all or part of their musical production.
---
Community Outreach
The community outreach partnership program welcomes youth from underrepresented communities as guests to mainstage productions and special post-show conversations with the cast. Thank you to Allstate, the Community Outreach sponsor for this winter's Sophisticated Ladies.
---
Off the Porch: The New-Work Development Program at Porchlight
We continue our forward-thinking commitment with our Off The Porch program of new musicals where we nurture new works in various stages of development. Recent projects we've helped move along include Miracle The Musical (which just concluded an extended run at the Royal George), Bran Castle, Everly Yours, Emptynesterhood and The Gatecrashers.
We welcome you to explore our site, get connected and become more involved with the Porchlight Music Theatre community; where artists, supporters, audiences and friends shine the light on passionate, innovative and relevant works that celebrate the past, present, and future of music theatre. We look forward to seeing you at the show!
Vision
A nationally recognized cultural institution in Chicago, Porchlight brings people together to explore the human experience through the art of music theatre fostering community, inclusion and empathy.
---
Mission
Porchlight, Chicago's home for music theatre, illuminates the past, present and future of this American art form through live performance, youth education and outreach programs that positively impact and connect us to the community.
---
Values
We believe that all voices and life experiences are essential to portraying on stage a complete picture of the human experience.

We are firmly committed to the music theatre genre presented in an intimate experience.

We treat artists, staff, volunteers and audiences with respect and dignity, inviting all into our artistic home.

We strive to be inclusive with representation in all aspects of our organization.

We invest in the future of music theatre through nurturing and mentoring the next generation of artists and audiences.

We ensure long-term organizational stability through prudent collaborations, strategic alliances and sound fiscal planning.
---
Diversity
Porchlight embraces the diversity of our community and strives to be an inclusive organization, artistically and administratively. Throughout all aspects of our work, we welcome and support diversity, encompassing, but not limited to, age, gender, ethnicity, race, disability, religion, sexual orientation and economic status. This is key to our success as the home for music theatre in Chicago.
The History of Porchlight Music Theatre
Porchlight Music Theatre was incorporated in 1995 by founding Artistic Director Jill Moore and a close group of artists and friends who aimed to create a company that would feel like home to artists and audiences alike. Porchlight came to symbolize creativity, comfort and community and for nearly 25 years the company has kept that light shining brightly.
Under L. Walter Stearns' artistic leadership from 1998-2011, the company took on more ambitious works and added its first Equity contracts in 2004. Porchlight's wildly successful production of Ragtime during the 2006-2007 season was a turning point for the theatre when it enjoyed an extended run at Chicago's Apollo Theater.
In 2010, veteran actor/director/artistic director Michael Weber took the artistic helm at Porchlight and the company continues to wow audiences with first-class, sophisticated and engaging music theatre, performed by the finest veteran and emerging actors, dancers and singers, with inventive direction, and arresting design innovations.
The 2016-2017 season for Porchlight was yet another key turning point in the company's evolution. In The Heights, the season opener, attracted record attendance, critical acclaim and four extensions for an all-time high of 78 performances. This hit musical changed the face of the company and provided the capacity and economic stability for Porchlight to make the big move to its new performance venue, The Ruth Page Center for the Arts, in Chicago's Gold Coast in fall 2017.
Since moving to The Ruth Page Center, the audience base continues to grow as Porchlight creates ever-more ambitious and exciting work. Its 2017-2018 season production of Memphis and 2018-2019 season productions of Gypsy and A Chorus Line were lauded with numerous award nominations and continue to set new attendance records for the company.
Full Production History