Tickets
Free – $45. See dates for details.
Porchlight's ALL-NEW Outdoor Concerts!
Porchlight is proud to announce additional dates and the cast for our Broadway in your Backyard summer concert series! This 90 minute performance of Broadway songs celebrates family, friends, community and inspiration. Broadway in your Backyard is suitable for all ages and many dates are free and open to the public.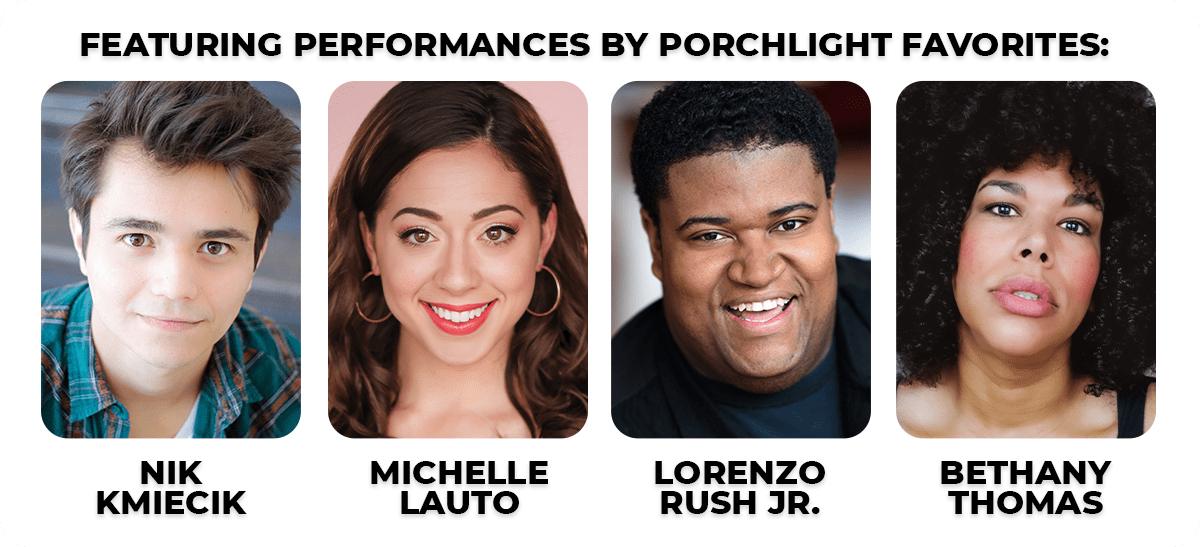 Directed by Michael Weber (he/him)
Music Directed by Justin Akira Kono (he/him)
---
Concert Dates
Sunday, July 18 at 4pm
FREE and open to the public
Washington Square Park – 901 N. Clark St, Chicago
Rain date: Sunday, July 25 at 4pm
Tuesday, Aug. 3 at 6:30pm
FREE and open to the public
Welles Park – 2333 W. Sunnyside Ave, Chicago
Rain date: Wednesday, Aug 4 at 6:30pm
Saturday, Aug. 7 at 8pm
$35 – 45 – Minimum 2 tickets, maximum of 6 per seating [Buy Tickets]
North Shore Center for the Performing Arts in Skokie, 9501 Skokie Blvd, Skokie
Rain date: Sunday, Aug. 8 at 8pm
Includes video projections and expanded band as part of the "Out Back Summer Sessions"

This concert is part of the Out Back Summer Sessions concert series, alongside New Faces Sing Broadway 1979, presented by the North Shore Center for the Performing Arts in Skokie, 9501 N. Skokie Blvd, Skokie. The performance is held outdoors in the North Shore Center in Skokie's 31,000 sq-ft back parking lot. Ticket reservations are general admission and are sold to groups of persons in the same accepted health safety bubble.
Tuesday, Aug. 10 at 5pm
FREE and open to the public
Seneca Park – 220 E. Chicago Ave, Chicago
Wednesday, Aug. 18 at 6:30pm
FREE and open to the public
Portage Park – 4100 N. Long Ave, Chicago
Saturday, August 28 at 12pm
FREE and open to the public
Sidney Epstein Youth Center – 3415 W. 13th Place, Chicago
Saturday, Sept. 11 at 12pm
Private Event for Chicago Youth Center Families
---
TICKETS & SEATING – North Shore Center (August 7 Performance Only)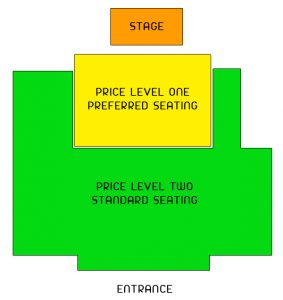 ♪ The North Shore Center for the Performing Arts in Skokie brought its concert operation out back to the North Shore Center's 31,000 square-foot parking lot and set up a stage and sound system in the fresh outdoors.
♪ Tickets are available for your group—two (2) minimum and up to six (6) maximum—consisting of persons from your same household or accepted health safety bubble.
♪ All tickets are sold as general admission reservations. Your group seating location is based on date of purchase and at the full discretion of management. Like a restaurant, upon arrival, patrons are escorted to designated spots. If you would like to be seated nearby another attending group, contact the Porchlight Box Office at (773) 777-9884 or boxoffice@porchlightmusictheatre.org.
Box office hours are Tuesday-Friday from 10AM-2PM CT.
♪ Out Back Summer Session concerts are scheduled outdoors and have scheduled rain days or alternative inclement weather plans.
HEALTH SAFETY MEASURES & RULES – North Shore Center (August 7 Performance Only)
The health and safety of our patrons, artists and employees are the priority! BUT we need your help!
Porchlight and the North Shore Center follow all health guidance from the CDC, the Illinois Department of Health and the Skokie Health Department. Official guidelines and our protocols will evolve over the coming months. For Out Back Session concerts this summer, we will require face coverings and social distancing. These requirements will be lifted only once public health officials deem it safe. Thank you for your cooperation in following the safety measures outlined here and that comply with official guidance allowing these events to happen.
The North Shore Center has taken enhanced health, safety and cleaning measures to protect artists and patrons, and reduce transmission risks of the coronavirus. Please understand your own personal health risks and take proper precautions in your exposure decisions. An inherent risk of exposure to COVID-19 exists in any public place where people are present. By attending, participants assume all risks related to exposure to COVID-19.
♪ Please bring a face covering. We will require the wearing face coverings and observation of proper social distancing.
♪ Following official guidelines, you may remove your face mask while socially distanced and/or eating or drinking in your performance viewing space. However, we will require face masks while visiting the restrooms and concessions, speaking with staff and other attendees and when moving through the performance area.
♪ We ask patrons to limit overall movement within the concert space and to stay in their assigned seating space when not visiting the restrooms or concessions.
♪ We ask that our concert patrons limit the projection of any respiratory droplets by consistent mask use at the concert and by refraining from shouting and singing.
♪ Patrons that do not wish to comply with standard health safety measures proven effective to keep others safe should not attend. Patrons must comply with concert guidelines or they will be removed from concert site without a refund.
♪ A buffer space between stage performers and audience will be established and maintained.
♪ All personnel will wear face coverings and safety gloves, when appropriate.
♪ The North Shore Center will have security personnel enforcing all event health safety measures.
CONCESSIONS & AMENITIES – North Shore Center (August 7 Performance Only)
♪ There may be traffic control officers at the facility entrances to direct you to parking areas. We appreciate your cooperation as they assist you in getting parked and into the seating area in a timely manner.
♪ This concert is NOT a drive-in. Patrons should bring their own chairs and blankets to set up in assigned parking spots.
♪ Patrons may bring coolers, non-alcoholic beverages, and/or food.
♪ Cold soft-drinks, beer, wine, and pre-packaged food items will be available for purchase at a concession stand with plastic safety barriers installed.
♪ Due to the nature of our liquor license, outside alcohol is prohibited. Alcoholic beverages may be purchased from the concession stand. All alcoholic consumption must take place within our concert venue borders.
♪ The North Shore Center's assisted listening devices do NOT work outdoors and will NOT be available.
♪ Indoor restrooms will be available for all concerts with social distancing guidelines in place.