Educational Programming for Youth and Adults
Porchlight's education programs offer an environment focused on the uniquely American art of music theatre with Chicago style. Through classes and camps for the novice and professional, Porchlight's classes hone existing skills and expand new ones!
Have a question? Reach out to Education Director Rebeccah Singer at rebeccah@porchlightmusictheatre.org or (773) 777-9884 ext 1006
Financial aid is available for all youth programs.

Freaky Friday: One-Act Edition
Due to COVID-19 and health concerns for our artists, audiences and others, all Porchlight Music Theatre events have been cancelled until further notice.
Join us for the one of a kind opportunity to perform on Porchlight's professional stage in Freaky Friday: One-Act Edition! Culminating in two performances on the mainstage set at the Ruth Page Center for the Arts, our young actors will complete their pre-professional experience with an exclusive invited dress performance of our mainstage show along with backstage tour and Q & A time with professional cast!
Saturday, April 4 – Sunday, May 17  •  Saturdays 11:30 am – 2:30 pm & Sundays 3:30 – 6:30 pm
Meet and Greet Audition Workshop: Saturday, March 21 from 12:00-2:00 pm (NOTE: All participants will be cast; workshop is just for assigning roles and getting to know each other!)
Ages: 8-17
Rehearsal Location: Menomonee Club Drucker Center, 1535 N. Dayton St. (one block south of the North/Clybourn red line stop)
Performance Location: Ruth Page Center for the Arts, 1016 N. Dearborn
Cost: $750
For more information and to inquire about financial assistance, please contact Education Director Rebeccah Singer at rebeccah@porchlightmusictheatre.org
"Make Your Own Musical" Summer Camp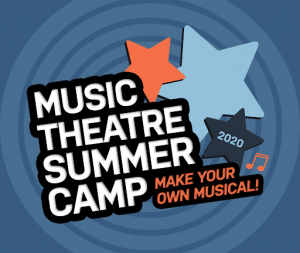 Calling all Broadway-bound singers, dancers, and writers! Enter the world of music, drama, dance, writing, and more while practicing teamwork, communication, and problem-solving. Campers will challenge themselves, and, of course, have tons of fun as they create a brand-new musical and perform for family and friends on the last day of camp. 
Duration: Two Weeks, Monday – Friday  •  9:00 am -3:00 pm (aftercare available until 6:00 pm)
Camp Location: Holtschneider Performance Center, DePaul School of Music
Cost: $650 per session
Broadway Basics • Ages 7 – 10 • Monday, July 13 – Friday, July 24
Musical Theatre Bootcamp • Ages 11 – 13 • Monday, July 27 – Friday, August 7
 Advanced Musical Theatre for Teens • Ages 14 – 17 • Monday, August 10 – Friday, August 21 (please note: this camp includes an additional Saturday performance  on Saturday, August 22)
Parent Testimonials
"This was her first Porchlight class . . . She's done classes all over the city but this has been one of her favorite ones. The teachers were super high quality and I suggest that anybody who wants to enjoy a good musical theatre camp join Porchlight."
"The experience was wonderful overall . . . the fact that it helped her grow into a character that she was unfamiliar with and it enlightened her. Porchlight rocks!"
"Being able to have this opportunity to explore and do something different, something that I only wish I could have done. My daughters acquired talents that I didn't even know they had, so it was amazing."
Partner With Porchlight!
We have been a staple in the Chicago theatre community for 25 years and are excited to bring the gift of music theatre to students around Chicago. From focused skills training to helping groups put on a full-length musical, Porchlight's experience of producing Chicago's best musicals for 25 years—paired with our amazing teaching artists and production support team—brings quality, customized programming into your school.
For inquiries and more information, contact Rebeccah Singer, Education Director, at rebeccah@porchlightmusictheatre.org.
In-School Programs
Let us come right to you in your classroom to support a specific unit of study or to spice up regularly scheduled programming.
Musical Theatre Classes
Partnering with current drama, dance, or music teachers at your school.
Unit Based Musical Enrichment
Work with students to create songs and dances based on a unit of study.
Utilize musicals about poignant events and topics to enhance students' knowledge and create a performance (Hamilton, Newsies, Les Miserables, Annie, and more).
After-School Programs
Make Your Own Musical workshops ending in performances for family and friends.
School Musical Theatre Productions

We can help produce your school's musical production and help your students be the best actors, singers, and dancers they can be!
Field Trips
Pre- and post-show discussions/workshops available
Porchlight for the Professional
Advanced training classes for professional artists allow students to hone their craft with the Porchlight community. The following adult professional technique classes are currently being offered: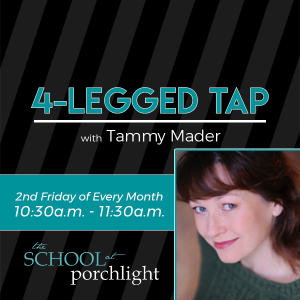 4 LEGGED TAP
Instructor: Tammy Mader
This class runs the first Friday of each month, 10:30 am – 12:00 pm. 
Cost: $12/class or $10/class with a Class Membership Card
If you've mastered tapping on your own two feet, prepare yourself for the next frontier: 4-legged tap. You'll dance side-by-side, face-to-face and back-to-back. You'll step in and spin like a top. You will discover a new reason to love the time you spend in your tap shoes. Grab a partner and unleash your inner Fred & Ginger with 4-Legged Tap!
Tammy is a veteran of Chicagoland musical theatre and has won multiple Jeff Awards for her choreography. She teaches master classes and workshops at the college level and was on staff at Columbia College. 
Purchase a 10 Class Membership Card for Just $100!
With a 10 class membership card to The School at Porchlight, students are eligible to take a variety of drop-in specific classes offered at our newly renovated facility and taught by master teachers and seasoned professionals. Cards will be held at the office front desk for pick up.
Purchase Membership Card!
Student Groups at Porchlight's Mainstage
Experience the passion of Chicago's music theatre and enjoy our productions with your school or community group! The Ruth Page Center for the Arts is wheelchair accessible with convenient restrooms on both the main floor and balcony level. Bus drop-off available directly in front of the theatre.
Student Groups of 10 or more
$27.00/ticket
Additional performances can be added for larger groups, pending availability. For more information or to inquire about adding a performance, please contact tami@grouptheatertix.com
Book a Student Group!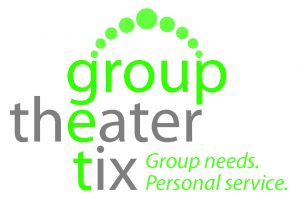 Michelle Lauto
Classes Taught: Youth Programs
Michelle serves as Lead Teacher for all of Porchlight's Youth Intensives and Summer Camps. She is an award-winning actor and teaching artist based in Chicago. She appeared recently as Betty Schaefer in Sunset Boulevard at Porchlight Music Theatre, Evelyn Nesbit in Ragtime, Mayzie in Suessical the Musical, and as Ado Annie in Oklahoma! all at the Marriott Theatre. Michelle was a 2017 Jeff Award recipient for her work in the original Chicago cast of Spamilton: An American Parody (Forbidden Broadway, Royal George Theater). Other credits Include: Maya in Bread and Roses (Amas Musical Theatre, NYC), Sheila in Hair (Mercury Theater) and Vanessa in In The Heights (Porchlight Music Theatre). Michelle is a proud member of AEA, SAG-AFTRA and graduate of The Second City Conservatory. She has taught at Emerald City Theatre in Chicago as well as The Broadway Workshop in NYC. She loves bringing the magic of theatre to the next generation and can't wait to watch students grow throughout this process! Check her out online at www.michellelauto.com.
---
Yando Lopez
Classes Taught: Youth Programs
Yando is an actor and educator based in Chicago. He was seen recently as Eddie in Mamma Mia at Drury Lane and in Legally Blonde at Paramount. Jeff-nominated roles of Jinx in Forever Plaid at Theatre at the Center and Lin-Manuel Miranda in Spamilton: An American Parody with Forbidden Broadway at the Royal George. He also appeared in The Christians at Steppenwolf. At Porchlight, Yando appeared in In The Heights, Sondheim on Sondheim, and the Porchlight Revisits series with Bells are Ringing and They're Playing Our Song. He is a proud member of AEA and a Northwestern graduate with degrees in Theatre and Statistics. Yando has worked with many after school programs and is also involved in tutoring and test prep. He loves music and theatre and is excited about getting to share, create, and grow with these amazing Porchlight students.
---
Tammy Mader
Classes Taught: Professional Programs (4 Legged Tap)
Tammy is a veteran of Chicagoland musical theatre and has won multiple Jeff Awards for her choreography. She is the director of Porchlight's spring Chicago premiere of Disney's Freaky Friday, and teaches master classes and workshops at the college level. She was on staff at Columbia College and is currently on faculty at Lou Conte Dance Studio. Tammy is the creator of the advanced concept "Active Dance," which is exclusively offered here at The School at Porchlight.
---
Matt
Crowle
Classes Taught: Professional Programs (Advanced/Professional Theatre Tap)
Matt Crowle is a Chicagoland performer, educator, and choreographer.  He was last seen st Porchlight Music Theatre in Porchlight Revisits: Little Me and in his 2015 Jeff Award winning turn as Hysterium in A Funny Thing Happened on the Way to the Forum.  Crowle, a Porchlight artistic associate, also made his directorial debut here with the Midwest premier of Double Trouble.  A proud member of SDC, other Chicago directorial and choreographic highlights include Singin' In The Rain (Jeff nom: Best Choreography), White Christmas (Jeff nom: Best Choreography) and Crazy For You.  Chicago and regional highlights include Patsy (Jeff nom) in Spamalot, Cosmo Brown (Jeff nom) in Singin' In the Rain, and Albert Peterson in Bye Bye, Birdie, all at Drury Lane; Hunter in [title of show], Northlight Theatre; Bert in Mary Poppins, Paramount Theatre; Leo Bloom (Jeff nom) in The Producers, Mercury Theater Chicago; Frederick Frankenstein in Young Frankenstein, St. Michael's Playhouse; and Cornelius Hackl in Hello, Dolly!, Gateway Playhouse.  He performed in the Broadway company of Monty Python's Spamalot under the direction of Mike Nichols, and tap danced across the country with Tommy Tune in the national tour of Doctor Dolittle.  Matt earned his BFA in music theatre under the guidance and mentorship of the late great Dr. Bruce Kirle. More at www.mattcrowle.com
---
Annie Jo Fischer
Classes Taught: Professional Programs (Beginning and Intermediate Tap Technique and Advanced/Pro Tap)
Annie Jo is a Chicago area performer, educator, and choreographer. She began her training as a child in Fond du Lac, Wisconsin with Riederer School of Dance, dancing on scholarship at various NADAA dance conventions and performing on her high school dance team, and she now holds a BFA in Dance from the University of Wisconsin Milwaukee. AJ has studied on scholarship with the Jump Rhythm Jazz Project of Chicago and performed professionally at The Marriott, Drury Lane, and Paramount, as well as various other suburban community theatres. She's choreographed over 50 musicals on various Chicagoland stages as well as taught various styles of dance at studios, schools, and in master class workshops, specializing in tap, jazz, and musical theatre. AJ considers herself a high energy artist who believes that a bold, polished, engaging finished product is best achieved through a collaborative, committed, and positive environment and process.
---