Join Our Community
Now in our 28th season, Porchlight is at a pivotal point in its history and your involvement can make a big difference! Explore ways you can make an impact on our artistic, education and community outreach programs.
---
WHY YOUR SUPPORT MATTERS
YOUR GIFT TO CHICAGO'S HOME FOR MUSIC THEATRE
Sustains the quality and innovation that have earned Porchlight dozens of awards and nominations – 178 Jeff Award Nominations and 45 Jeff Awards,

 as well as 33 Black Theatre Alliance (BTA) nominations and 12 BTA awards.

Enables members of underserved populations to experience live, professional theater as our guests. Porchlight invites students and youth groups to the theatre, and hosts around 400-500 guests per season. For many, the Porchlight production is their first live theatre experience.
Showcases and nurtures up-and-coming artists in Chicago music theatre with our New Faces Sing Broadway revue series and our education programming.
For more information, please contact Evin Marie Rayford at evin@porchlightmusictheatre.org.
(ABOVE: Porchlight's ICONS Gala, 2019. Photo by Michael Courier).
Your Support Makes the Difference
Porchlight counts on the hundreds of individuals who make unrestricted contributions to Porchlight each season in order to produce the highest quality, most exciting music theatre featuring the most talented performers, designers and technicians. Ticket sales only cover about 50% of our nonprofit's budget. Coming out of this challenging time, our generous supporters make all the difference in our ability to shine, now and in the years ahead. Please consider a gift to Porchlight today.
---
Giving & Recognition Levels
Every donation we receive is an affirmation of our work, an affirmation we take very seriously, pushing Porchlight forward to inspire and entertain.
VISIONARY: $25,000+
Opportunity to sit in on the creation process for one Mainstage production, with invitation for two to general auditions, call backs, first full-company rehearsal with designer presentations, final run-though and opening night, including a cast-signed show poster

VIP experience for four at one Broadway in your Backyard summer park concert including reserved seating (chairs) and gourmet food & wine basket

Unlimited complimentary concessions at Mainstage performances

Plus the combined benefits of all levels below
BENEFACTOR: $10,000-$24,999
Invitation for two to an exclusive end-of-season donor appreciation party with Porchlight's award-winning artistic director Michael Weber, season artists and VIPs (June)

Ten tickets to one Porchlight Mainstage production for your use, or donated to a charity or school of your choice

Plus the combined benefits of all levels below
PRODUCER: $5,000-$9,999
Invitation for two to the annual VIP Holiday Party (December)

"Golden Ticket" privileges to expedite check-in at special events like the ICONS Gala and Chicago Sings (requires full pre-registration)

Plus the combined benefits of all levels below
PRINCIPAL: $2,500-$4,999
Invitation for two to each Mainstage production's "First Rehearsal Meet & Greet", the first all-company rehearsal at Porchlight's rehearsal studios at 4200 W. Diversey, with an opportunity to hear the insights and visions of the creative team and experience the cast in the first read-through (Mondays, Oct. 3, Dec. 19 and Apr. 19)

Coupons for two complimentary concession items at each Mainstage production

Plus the combined benefits of all levels below
PLAYER: $1,000-$2,499
Invitation for two to each Mainstage Opening Night performance and celebratory reception, mingling with supporters, press and artists

, 6pm reception/7:30pm performance (Thursdays, Nov. 3, Feb. 2, and May 11)

Plus the combined benefits of all levels below
ASSOCIATE: $500-$999
Choice of Porchlight Music Theatre logo merchandise (hat, t-shirt, tumbler, mug or tote bag)

Plus the combined benefits of all levels below
PATRON: $250
Priority invitation to the Season Preview concert event (August)

Plus the combined benefits of all levels below
SUPPORTER: $100
Listing in Mainstage show programs and on the website
---
Other Giving Options
Porchlight gratefully accepts gifts of stock, planned gifts and charitable IRA rollovers, in addition to support through corporate and community partnerships. Contact Evin Marie Rayford at evin@porchlightmusictheatre.org for specific instructions.
MATCHING GIFTS
Does your employer match gifts to 501(c)(3) not-for-profits like Porchlight Music Theatre? If so, please provide us the pertinent forms or link and we'll pursue the match. When determining giving levels, matches are considered along with the individual's personal contributions.
CORPORATE GRANTS
If you work for a company with a corporate grant or community giving program, let us know. Employees can help not-for-profits navigate corporate giving programs.
IN-KIND DONATIONS
Porchlight welcomes in-kind donations for gala auction items, office supplies and equipment, printing and graphic design, set-building materials, furniture, props, costumes and a variety of other much-needed items. Please contact us for more information on how to support the theatre in this vital way.
PLANNED GIVING
Planned giving is a way to make a future gift through your financial and estate plans. Your gift may provide tax benefits for you or your loved ones, and it will ensure that the enjoyment and enrichment you've experienced at Porchlight is available for generations to come. Click the link in the left-hand menu to learn more.
The Songbook Society
The Songbook Society is dedicated to ensuring the future of music theatre in Chicago. Members of the Songbook Society are music theatre lovers who have a strong appreciation for the excellence of music theatre and enjoy getting to know others who share the same enthusiasm and passion for Porchlight. Members serve as advocates and enjoy special inside access and unique opportunities that deepen their engagement with Porchlight. We hope that you will join this special group of Porchlight supporters who contribute $2,500 or more annually.
The Rachel Rockwell Memorial Fund: Supporting Fierce Women Behind the Table
This fund was established by Porchlight board member Brenda Didier to recognize, employ and support women in artistic leadership positions at Porchlight Music Theatre in memory of theatre director, choreographer and performer, Rachel Rockwell. Inaugural recipients of The Rachel Rockwell Memorial Fund Supporting Fierce Women Behind the Table include Denise Karczewski (lighting designer), Christie Chiles Twillie (music director), and Shanna VanDerwerker (choreographer).
---
The Christopher N. Tisone Memorial Stage Management Fund
Through the generosity of the Tisone family, this fund established in 2019 supports and celebrates the unsung heroes of any theatre production: stage management. Production Stage Managers and Assistant Stage Managers coordinate and support the people and processes that bring a show to life. This fund supports a combination of both seasoned stage managers as well as stage managers newer in their careers who are working on Porchlight productions in a given year.
---
The George K. Sargent III Cash Reserve Fund
Maintaining financial stability and sustainability is the key to expanding programming, innovating, taking artistic risks and weathering economic downturns. With no endowment, building our cash reserves is essential, especially after the effects of the pandemic. A cash reserve fund is an important strategic goal championed by long-time board member Kim Sargent who passed away in June 2019, whose legacy of strong fiscal stewardship continues to inspire all of us at Porchlight. We have established this fund in his memory.
GET IN ON THE ACT!
Support the Award-Winning Work of Porchlight Music Theatre
As the home for music theatre in Chicago, Porchlight Music Theatre is nationally recognized for reimagining classic productions, developing new works and showcasing musical theatre's noted Chicago veterans and rising stars. Porchlight elevates the genre by providing intimate and powerful theatrical experiences of music theatre through the lens of the "Chicago style." The 23rd season 2017–2018 marked a milestone for Porchlight as the company became an Artist In-Residence at the historic Ruth Page Center for the Arts in Chicago's Gold Coast. This move expanded audiences and raised the company's profile.
Your partnership with Porchlight provides an affiliation with an established Chicago arts leader and brand that is synonymous with excellence and innovation. We will tailor a package to fit your specific philanthropic and promotional priorities. For individual or family sponsors, we offer you exclusive recognition and involvement with the artists.
Contact Evin Marie Rayford at evin@porchlightmusictheatre.org for opportunities and more information.
PLANNED GIVING & PORCHLIGHT'S DIRECTOR'S CIRCLE
Planned giving is a way to make a future gift through your financial and estate plans. Your gift may provide tax benefits for you or your loved ones, and it will ensure that the enjoyment and enrichment you've experienced at Porchlight is available for generations to come. Through your future gift, you can continue to support Porchlight's artistic work and exceptional arts education and outreach programs. When you decide to include Porchlight in your estate plans, you come a member of Porchlight's Director's Circle.
If you have included Porchlight Music Theatre in your estate plans, please download The Bequest Notification form and send us a copy (4200 W. Diversey Ave. Chicago, IL 60639).
Bequest Notification Form
---
Types of Bequests
Check out the various ways by which you can make a bequest to Porchlight Music Theatre.
Specific Bequest. A specific bequest involves making a gift of a specific asset such as real estate, a car, other property or a gift for a specific dollar amount. For example, you may wish to leave your home or $10,000 to Porchlight Music Theatre.

Percentage Bequest. Another kind of specific bequest involves leaving a specific percentage of your overall estate to charity. For example, you may wish to leave 20% of your estate to Porchlight Music Theatre.

Residual Bequest. A residual bequest is made from the balance of an estate after the will or trust has given away each of the specific bequests. A common residual bequest involves leaving a percentage of the residue of the estate to charity. For example, you may wish to leave 25% of the residue of your estate to Porchlight Music Theatre.

Contingent Bequest. A contingent bequest is made to charity only if the purpose of the primary bequest cannot be met. For example, you could leave specific property, such as a vacation home, to a relative, but the bequest language could provide that if the relative is not alive at the time of your death, the vacation home will go to Porchlight Music Theatre.
---
Bequest Benefits
A bequest is generally a revocable gift, which means it can be changed or modified at any time. You can choose to designate that a bequest be used for a general or specific purpose so you have the peace of mind knowing that your gift will be used as intended. Bequests are exempt from federal estate taxes. If you have a taxable estate, the estate tax charitable deduction may offset or eliminate estate taxes, resulting in a larger inheritance for your heirs.
Donate Today!
Annual ICONS Gala
SAVE THE DATE FOR OUR 2022 ICONS GALA – FRIDAY, SEPTEMBER 23!
The ICONS Gala is Porchlight's signature fundraising event and annually celebrates a notable artist who has made an indelible contribution to American entertainment through our art form. Past ICONS have included Hal Prince, Elaine Stritch, Joel Grey and in 2021 the incomparable Chita Rivera.
Porchlight's Luminary Award is bestowed annually at the Gala. This honor recognizes an outstanding individual, family or family foundation with a history of philanthropic and volunteer leadership on behalf of Porchlight and music theatre in Chicago, and whose generosity inspires others to philanthropic action. 
---
ICONS In-Kind Sponsors
In-kind sponsors are critical to the success of the event. We regularly seek sponsors for the following items, and offer a variety of promotional recognition depending on the scope of services or items being donated.
Wine Sponsor – red, white and sparkling
Printing Sponsor – of invitation and other event materials
Floral Sponsor – floral arrangements for the dining tables and the registration/welcome table
Swag-Bag Sponsor – provide one or more items for the thank-you gift bag given to each attendee
HONOR ROLL OF DONORS
Porchlight Music Theatre gratefully acknowledges the following individuals, corporations, and foundations who generously gave gifts to Porchlight Music Theatre from August 1, 2020 to August 1, 2021.
We also thank those patrons of Sunset Boulevard and Duke Ellington's Sophisticated Ladies whose contributions to the post show collection supported scholarships to Porchlight's Youth Summer Camp.
We endeavor to make this listing as accurate as possible. Should you detect an error, please contact August Compton at august@porchlightmusictheatre.org.
Donate Today!
---
Our Donors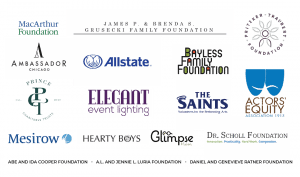 ---
Matching Gift Corporate Partners

Government Support
Porchlight Music Theatre is partially supported by a Grant from the Illinois Arts Council Agency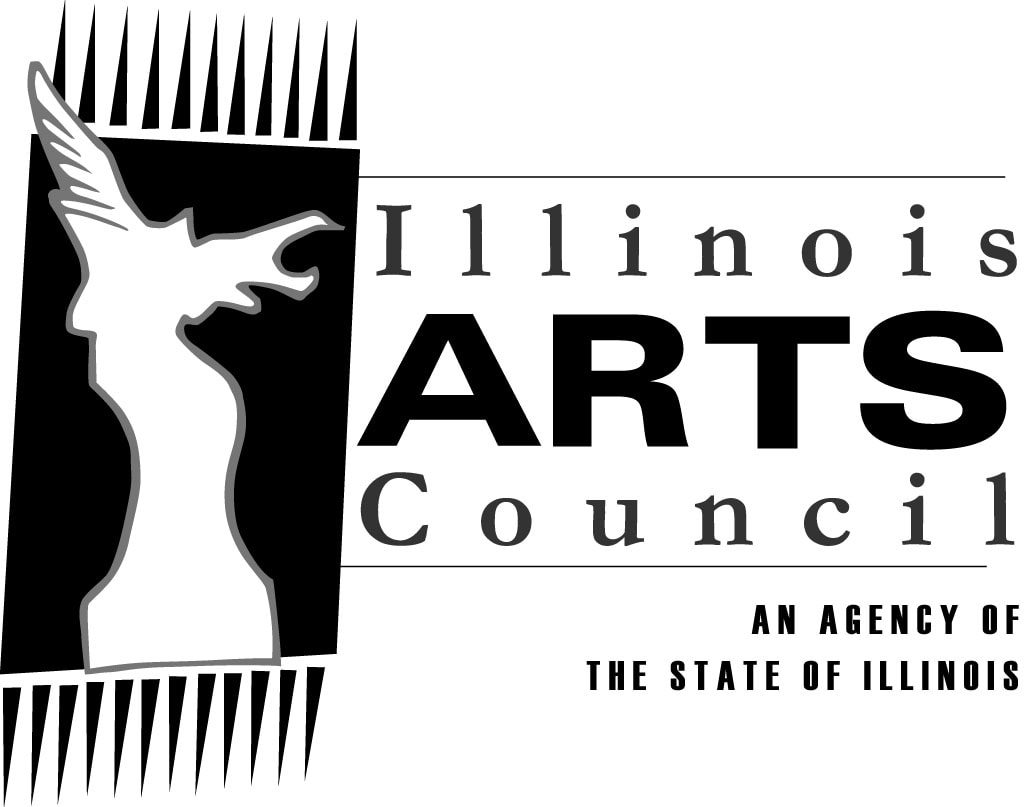 Porchlight Music Theatre is partially supported by a CityArts Grant from the City of Chicago Department of Cultural Affairs & Special Events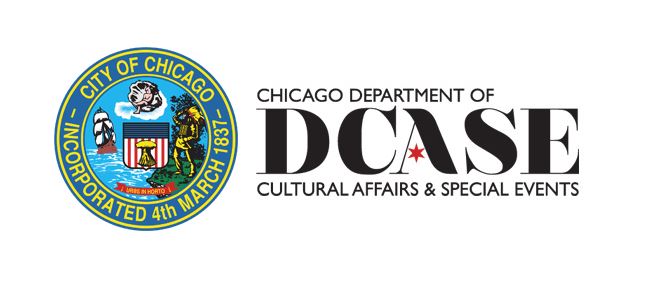 ---
NOTE: THE DESIGNATION ++ INDICATES INDIVIDUALS WHO ARE MEMBERS OF THE DIRECTORS CIRCLE AND HAVE INCLUDED PORCHLIGHT IN THEIR ESTATE PLANNING.
VISIONARY ($10,000+)
Allstate
Anonymous (2)
Nancy Marder and Jeremy Eden
James P. and Brenda S. Grusecki Family Foundation
Illinois Arts Council
MacArthur Fund for Arts & Culture at Prince
Elaine Cohen and Arlen D. Rubin
PRODUCER ($5,000-9,999)
Abe & Ida Cooper Foundation
Anonymous (2)
The Bayless Family Foundation
Bob and Emily Carroll
Joyce Chelberg
Michelle and Steve Cucchiaro
Tom Perry and Anthony Gibson
Robert & Mardee Gramen
James Jensen
Susan Klingenstein
Corinne and Bill McClintic
Daniel and Genevieve Ratner Foundation
Dr. Scholl Foundation
Schulman-Rochambeau Charitable Foundation
Taron Tachman and Sara Siegall
Lizbeth Stiffel
Greg and Anne Taubeneck Family Fund at the Chicago Community Foundation
PRINCIPAL ($2,500-$4,999)
Anonymous
Shaun and Andrew Block
Rhona and Julian Frazin
Arthur Garwin
John Blackburn and William Gilmer
Tom Hall and Diane Graham-Henry
Jeffrey and Susan Hebble
Russell N. Johnson and Mark D. Hudson
Susan E. Cohn and Jonathan D. Klein
Charles and Diane Laff
Dan Smith and Steve McDonagh
Joel and Jeri Rothman
Avy and Marcie Stein
PLAYER ($1,000-$2,499)
Geoffrey Anderson
John Belom
Roland C. Hansen and William Bergfalk
David Bild
Jacqueline and Timothy Bryant
Pamela Crutchfield
Mike Seiler and Brenda Didier
Tom Riker and James Dolenc
Todd Arp and Brian Donlan
Susan Drymalski Bowey
Tom and Marcia Fritz
Sasha Gerritson
June Golin
Scott Hoesman and Joseph Higgins
Brent Hoffmann
Maridee Quanbeck and Jared Kaplan
The Kriauciunas Family
Lloyd A Fry Foundation
Jamey Lundblad and William Melamed
Gregory and Alice Melchor
Andra Press
Thomas Reece
Rhoda Reeling
Baum Revision
Kim Shambrook
Brian Troy
Gretchen Upholt
Scott Vandermyde
Richard and Diane Weinberg
Christophe and Diane Whatton
Judie and Ronald Zoromski
ASSOCIATE ($500-999)
Dorothy Anderson
Anonymous
Susann Ball
Michael Fain and Judith Barnard
Mary Kay Conley
Ellen Dalton
Deanna Dunagan
Michael Elkow
Robert Fabbri
Miriam Frankel
Judith Freeman
Virginia and C. Gary Gerst
Andrea and Richard Ginsburg
Michael Goldstein
Robert Gordon
Shelley Gorson
Brad McCormick and William Ingraham
Dixie Johnson
Krystyna Kiel
Gordon and Carolyn Kirk
Robert Nicholson and David Liechty
Carol Mackoff
Paul Matz
Barbara and Ed Mills
William Morey
Lucia and George C. Mottier
Margaret Murphy
Bennett Neuman
Shelley Ochab
Claire Pensyl
Karen Prieur
Jerry Proffit
Piper Rothschild
Alan Salpeter
David Shapiro
Michael Solis
Denise Stefan
Randall Steinmeyer
Scott Vachon
Patricia Walsh
Andrew Weaver
PATRON ($250-499)
Deb Abrahamson
Bari and Peter Amadio
Melissa Anderson
Anonymous (4)
Salvatore Anzalone
James Baum
Christy Beckmann
Dorothy Blyth
Alan Briskin
Rachel Kraft and Douglas Brown
Zach Burton
Timothy Carwinski
Lesli Cason
Shannon Chandley
Diane and Shev Ciral
Constance Clark
Tara Cohn
Karen Coleman
David Collins
Joseph Quartana and Leonora Dickson
Suzy DiSanto
Marilynne Felderman
David Fink
Thea Flaum
Sally Fletcher
Janet and Kenton Foutty
Julie Fricke
Linda Gels
Patricia Gentry
Meghan Goldfarb
Martin Gradman
Andrew Grein
Joan Gunzberg
Alan Greiman and Julie Hamos
Martin Hauselman
Deborah Kramer and Robert Heinrich
Robert Hill
Debra Hinze
Blair Hoffman
Cathy Benton and Robert Holliday
Michael Horvich
Claudia Hueser
Jill Hurwitz
Carol Jaffe
David Marker and Georgann Joseph
Laura Kahan
Sarah Lawsky
Kathy Marusarz and Tom Lengacher
Joan Lovell
Florine and Henry Marks
Sue Matulionis
Theodore Michalke
Mary Milroy
Stella Moore
Barbara Morgenstern
Steve and Karen Multer
Brooke and Tom Nelson
Annette and Steve Newby
Mary Novotny
Susan Pastin
Rebecca Patterson
Dorothy and Rodney Patterson
Marc Harshbarger and Michael Pauken
Harvey Popolow
John Levine and Merril Prager
D. Elizabeth Price
Karen Rabun
Darlene and Roy Rhyan
Robin K. Roy
Noreen Ryan
Julie and William Sargent
Jim and Diane Sheehan
Pauline Silvia
Robin Simon
Jay and Tamara Sims
Jeffrey Slutsky
John Spitzig
Dariel Stack
Gregory Story
The Saints
Merle Tresser
Donald Turner
Jan Tynan
Peter Vale
Tina and Dennis Vaughn
Barbara Provus and Fred Wackerle
Matilda Wilhoite
Sandi Wisenberg
Susan Youdovin
Roberta Zabel
Laura and Bruce Zimmerman
SUPPORTER ($100-249)
Jennifer Aguilar
Lane Alexander
Karen and Bryan Anderson
Pamela Sherrod Anderson
Anonymous (3)
Richard Aronson
Sue August
Beth Awerkamp
Patricia Baker
Nancy Balcer
Frank and Kathleen Ballantine
Martin Balogh
Alvin Beatty
David Bell
Tom Bell
Sharon Bergen
Beth Bergmann
Irwin Berkowitz
Trudy Bers
Gerard Bertolino
Linda Bierre
Robert Bonace
Dan and Nancy Borzak
Pete Brace
Catherine Brokenshire
Michael Brooks
Maxine Brown
Kimberly Bruna
Allen Burke
Joan Callahan
Michael & Mark Camp-Kaplan
William Carstedt
Skip Cassato
Celeste Center
Valerie Chase
Emily Chen
Susan Chennell
David and Lisa Chinitz
William Cleaveland
Daniel Cohn
Ann S. Cole
Cheryl Coons
Jan Costenbader
Cody Czmyr
Julie Danis
Yolanda Deen
Patty L. Delony
Barbara Devinki
Richard Divinki
Patricia Dixon
Paul Donahue
Bernice Dorig
Carolyn Driscoll
Molly Durkin
Martha Dwyer
Lynn Dykstra
Marilyn Eisenberg
Richard Eisenhardt
Janice English
Miriam Ex
Martin Fine
Sunny Fischer
Eileen Flaherty
Freddi Friedman
Daliah Fritz
Kathleen Gaffney
Nancy Garfien
Jo Gayle
Karen Genelly
Dan Georgevich
Joseph Glaser
John Glover
Bill and Ethel Gofen
David Goldberg
Katherine and Steven Goldberg
Candice Goldstein
Network for Good
Gordon Goodman
Merrill Goozner
Susan Grace
Paula Grasso
Robert Grover
Glenn Grzonka
Allen Gustin
Nancy Gutfreund
Susan Haimes
Karen Heller
Donna Higgins
Jermaine Hill
Gregory Hoskins
Edward Howe
David Howlett
John Hudson
Martha Jantho
Sally Jechura
Jewish Federation of Metropolitan Chicago
James Earl Jones II
Daniel Kahn
Robert Kaufman
Sheila Keeshin
Colby Kingsbury
Aimee Kleiman
Gregory Kmiecik
Gayle Kosalko
Bonnie Krasny
Mindy Laff
Barbara LaSpesa
Kathy Leech
Mary LeGere
Dr. Paul Lisnek++
Larry Little
Jan Loew
Larry Long
Roseanne Lucianek
Dianne Luhmann
Jeannie Lukow++
Richard Malone
Mary Marvel
Robert Mason
Brian McCormick
Beckie Menzie
Suzanne Meyering
Carolyn Minutillo
Cindy Mitchell
Boyce Moffitt
Jeffrey Mono
Mary Lee Morrison
Patricia Motto
The Mroczek Family
Tom Myles
Katherine Nathan
Duane Nelsen
Gwen Nodiff
Mary Nolen
Robin and Kevin O'Brien
Timothy O'Connell
Deborah Oberschelp
Sreya Pallath
Paul Palmateer
Carole and David Perlman
Matthew Piette
Dorothy Pirovano
Angela and Charles Platt
Joyce Porter
Sharon Reed
Daniel Reich
Nick Rhyan
Charles and Cathy Ripp
Patti Rocks
Carrie Roitstein
Marcia Ross
Michael Rucci
Lorra Rudman
Patricia Rusk
Raymond Rusnak
Melanie Sailer
Jerry Salzberg
John and Frances Sandford
Betsy Sargent Hill
Lynda Savage
Heddi Schellbach
Anne Scheyer
Klaus Schuller
Rosie Schultz
Michael Schuppe
Tania Sebastian
Gail Segal
Ira Sender
Lawrence Sezer
Ron Shapiro
Maureen Shea
James Sherman
Leslie Shook
June Shulman
Steven and Susan Williger Sidell
Bruce and Sarane Siewerth
Jordan and Leslie Sigale
Bruce and Fanchon Simons
Beth Smetana
Margaret and John Snow
Clarence Parham and Ivette Sosias
Hugh and Charmaine Spencer
Caryl Steinberg
Ellen Steinberg
Elaine Stern
Susan Stodolsky
Robert Stoll
Malinda Strauss
Cynthia Strong
John Stroud
Linda Surlak
Kay Tabin
Jonah Takagi
Todd Toles
James Huttenhower and Phillip Tommey
Lisa Torgerson
Dana and Michael Treister
Joanne C. Tremulis
Mary Ann Tuerk
Dana Vance
Peggy Vicars
Katy Walsh
Margaret Wander
Ellen Webber
Michael Weber
James Weidner
Susan Weindruch
Paul and Lynne Wellen
Jessica Welton
Jim and Sharon West
Thelma West
Beth White
Marlene Wilson
Claudia Winkler
Iris Witkowsky
Dean Yannias
Melissa Young
Frank and Rebekah Zhao
FRIEND ($1-99)
Frances Aaron
Judith Abbey
Diane Aidem
Beth Althage
Lynn Altschul
Paul Anderson
Katherine Anderson
Janet and Steven Anixter
Anonymous (3)
Leslie Ansel
Michael April
Dennis Aron
Andrew and Iris Aronson
Ariana Arralde
Tara Attea
Beth Awerkamp
Robin Axel
Alicia Bailey
Larry Baker
Larry Baldacci
Catherine Barbaro
Judy Bard
Marian Barell
Emily Barnash
Carolyn Bartman
Lauren Bascio
Nadja Battersby
Joan Bauer
Glenda Bavier
Robert Becker
Gail Bedessem
Robin E. Bell
Kristen Bennett
Blue Benson
Allan Bergman
Anne Berkeley
Helene Berlin
Joanne Bertsche
Eleni Bethke
Suzi Birz
Lexis and Mark Blitstein
William Blyth
Carole Book
Tina Borgo
Roberta Borst
John B. Boss
Elya Bottiger
Wencke Johanne Braathen
Sara Bradley
Amy Branahl
Karen Breen Elia
Nancy Breseke
Marlene Bressler
Teresa Brolley
Hillary Brown
Barbara and Ted Buenger
Robert Bullen
Nancy Burkett
Janet Burroway
Christine Buvinger
Jean Bystedt
Lesley Caisman
Rozanne Caldwell
Molly Callinan
Drew Grien and Rachel Cantzler
Peter Merkle and Dexane Card
Holly Carter
Ryan Cason
Mary Chaiken
Jane Chandley
Sam and Leah Chiprin
Mitchell A. Chuich
Bette Chwalisz
Andrea Chwee
Cynthia Clarey
Anne Clark
Will Clinger
Bud Coffey
William Coffin
Diana Cohen
Michael and Sandra Cohen
Iris Cohen
Jacob Cohen
Hunter Collins
Rachel Combs
August Compton
Katherine Condit
Heather Copeland
Kathy Cunningham
Roberta H. Deakyne
Phyllis Deerinck
Carla DeFlorio
Julia DeGruchy
Stacy DePorter
Barbara DiGuido
Rita DiSibio
Alexander Disney
Anne-Marie Douglas
Carole Drew
James and Judy Duesenberg
Mina Dulcan
Dennis Dunn
Fernand Dutile
Liliana Duval
Hal Dvorin
Carol Eastin
Winifred Eggers
Sharon Eiseman
Irene Elkin
Dulcie Elwood
Karla Ent
Paula Fagel
Fran Faller
Jeffrey Farbman
Brian Fasel
Arlene Faulk
Judy Feinberg
Kenneth Feldbein
Evan Fineout
Eleanor FitzGerald
Elizabeth Fleckenstein
David and Tricia Fox
Kelly Freeman
Lynn Friedman
Roselyn Friedman
Allison Friedman
Nancy Fuhrman
Annie Fuller
Maggie Fullilove Nugent
Paul Garcy
Michael Gaspar
Frank Gassmann
Bill Geller
Amber Gensterblum
Teresa Ghiotto
Arlene Ghiron
Alice Ginsburgh
Susan Glatt
Robert Glaze
Jeffrey Glenn
Mark Gluskin
Nancy Godinez
Barbra Goering
Alan Goldsmith
Leonard Goldstein
Sharon Gonsky
Stacy Gonzalez
Amy Goodman
Karen Goozner
Suzanne Gordon
Leon Gottlieb
Deborah Granite
Don Sprague++ and Ray Grant
Regina Gray
Freddi Greenberg
Dana Greenstein
Jan Grimes
Mary Grimm
Rick Grubbs
Scott Gryder
Gail Guggenheim
Craig Gustafson
Beth Halevy
Mary Jane Hancock
Bruce and Nora Handler
James Hanna
Cathleen Hannigan
Dell Harmsen
Thomas Hartman
Mary Hayakawa
Martin Hayden
Roberta Heiman
Eva Heinemann
Angeline Heisler
Donica Henderson-Tribue
Michael Hendricks
James Heneghan
Wesley Hentges
Randall Hercey
Ricki Herling
Jack Herman
Martine Hillman
Sherry Hoel
Thomas Hoeppner
Norman Hoffberg
Aaron Holland
David Hollar
Grace Hornback
Susan Hoseman
Eileen H. Howard
Meghan Hoyt
Andrea Idelman
Janet Jacobson
Janet Jacobson
Susan Janick
Elena Maria Jimenez
Logan Jones
Lisa M. Jones
Jennifer and William Jones
Philip Joseph
Laura Joss
Josue Juarbe Lopez
Eric Judson
Carolyn Jummati
Marian Kaderbek
Suzi Kaitz
Esta Kallen
Mary Kaltman
Fran Kaluzna
Joel Kay
Ronald Keaton
Scott Kellner
Kenneth Kemp
Elana Kennedy
Robert Kennedy
Virginia Kerr
Michele Killebrew
Kristi King
Sherry Kirschenbaum
Smiljana Kisacanin
Jessica Klass
Tom Knoff
Julie Knudson
Marc Kochanski
Del and Donna Kolacki
Colleen Konicek
Polly Kortlander
Scott Kruger
Molly Lai
Richard Landgraff
William Larkin
Michael Lauto
Moses Lee
Jennifer Lenhart
Gail Leondar-Wright
Carla Leone
Christine Levy
Douglas Lieberman
Collin Lindgren
Mike Liska
Susan Litoff
Jerome and Jan Loew
Barry Lohman
Doug Long
Greg Lonsway
Krystan Lordahl
Nina Lynn
Corinne Lyon
Mallory Maedke
Tami Manton
Marguerite Mariama
Jeffrey Marks
Emily Marrazzo
Lesley Martin
AnnaRae Martin
Mara Martini
Rick Marzec
Jennifer Mather
Joan Matz
Dorothy B. Mayer
Martin McCaw
Darryl McCollum
Jordan McDonnell
Janice McGeehan
Joyce McGreevy
Michelle McKenzie-Voigt
Mackenzie McKnight
Leoni McVey
Catherine Meaney
Deanne Medina
Jerry Meites
Matthew Merkt
Hallie Metzger
Anne Meyer
Eleanor Miller
Rebecca Mills
Carol Mitchel
Lee Mitchell
Phyllis Mitzen
Melinda Moore
Eve Moran
Eilish Morse-O'Rourke
Diane Moses
Maria Mowbray
Cheryl Mugleston
Carol Mullins
Shibani Munshi
Eileen Murray
Anna Musci
William Myers
Patricia Mysza
Katherine Nardin
Fran Nayowitz
Alison Nelson
Susan and Ronald Nick
Stephen Nidetz
George Nikopolitis
Mitchell Norinsky
Catherine Norman-Burke
Michael O'Hare
Ken Ogorzalek
Janet Ohlhausen
Kurt Olson
Lois Orth-Zitoli
Kait Ostrov
Susan Pawlak
Patrick Pazdernik
Kevin Pazdernik
Liz Pazik
Laurie Perkins
Phyllis Perkins
Jan Perney
Rebecca Peterson
Myrna Petlicki
Anne Phillips
Khaki Pixley
Sandra Popik
Marilyn Price
Martin Przygoda
Madeline Puccioni
Louis Pyster
Elizabeth Ragan
Elizabeth L. Raiman
Mike Razim
Melaney Reed
Dave and Vicki Rhyan
Quinn Rigg
Patricia Rink
David Robbins
Susan Robertson
Rae Robeson
Katie Robichaud
Laura Rodnitzky
Carmen Roman
Katherine Rose
Sharon Rosen
Burt Rosenberg
Penny Rotheiser
Telly Rowbotham
Jenny Rudnick
Carolyn Rusnak
Nora Cay Ryan
Lori Ryan
Janet Sanderson
Mary Ann Savard
Patricia Scala
David Schiffman
Beth Schilling
Thalia Schramm
Hedda Schwartz
Stephen Scott
Donna Scott
Jeffery Segal
Andrew Seller
Richard Seymour
Kathleen Shannon
Becca Sheehan
Julie Sick
Linda Soreff Siegel
Scott Silberstein
Candace Simmons
Janele Skolinsky
Ada Skyles
Amazon Smile
Dennis and Patricia Smith
Katherine Smith
Ruth Snook
Martha Spalding
Estelle Spector
David Spitulnik
Claudia Springer
Mary Sprouse
James Stimac
Maryanne Stone
Karen Stone
Sue Susman
Linda Sweeney
Robert Tanaka
Annice Tatken
Benjamin Taylor
Dan Thomas
Mary L. Thomas
Lisa Thompson
Laura Thoresen
Carl and Karen Tisone
Sandra Torrielli
Deanne Turim
Madalyn Tuzikowski
James Venskus
Rebecca Vlasic
Kathleen Waldeck
Gina Wammock
Linda Wedenoja
Diane Weil
Christine Weinberg
Rachel Weinberg
Alan Weiner
David West
Julie West
Wendy White
Kathy Wilders
Taylor Williams
Ebony Williams
Brian Wilson
Bryan Wilson
Valerie Woods
Tim Wright
Jayme Wyatt
James Youngblut
Mary Zanger
Joyce Zeldin
GIFTS WERE MADE IN HONOR OF…
Elaine Cohen
Cheryl Coons
Michelle Cucchiaro
Jim Jensen
Robert W. Johnson
Denise Karczewski
Genevieve Thiers
Michael Weber
GIFTS WERE MADE IN MEMORY OF…
Chadwick Boseman
Darryl Didier
Roy Hine
Donald Ratner
George K. Sargent III