THE GUY ADKINS AWARD
for Excellence in the Advancement of Music Theatre in Chicago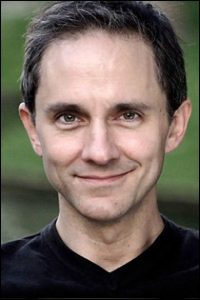 Each year, Porchlight Music Theatre celebrates an individual who has made an exceptional and lasting contribution to the state of the art of Chicago music theatre, with the prestigious Guy Adkins Award. The award is presented at Porchlight's annual Chicago Sings concert each fall.

Guy Adkins was an award-winning Chicago actor.  Among his significant stage credits were Oklahoma! Windy City and A Funny Thing Happened… at Marriott Theatre; The Taming of the Shrew at Chicago Shakespeare Theatre; Pericles, Twelfth Night, The Invention of Love and the title role in Hamlet at Court Theatre; The Time of Your Life at Steppenwolf and the world premieres of the musicals The Return of Martin Guerre and The Visit, both at The Goodman Theatre. The Chicago Sun Times called Guy, "…a smart and invariably graceful actor" and The New York Times called him "outrageously talented" for his turn at "Puck" in a A Midsummer Night's Dream at the McCarter Theatre in New Jersey.  Sadly, Guy passed away in 2010, but his spirit lives on through his many gifts to our theatre community.
(ABOVE: 2017 Guy Adkins Award Recipient Rachel Rockwell at the 2017 ICONS Gala. Photo by Brandon Dahlquist)
The Recipients of The Guy Adkins Award

2021

Felicia P. Fields

Multi-Award-Winning Actress, Director and Playwright

2019

Gary Griffin

Multi-Award-Winning Director

2018

Brenda Didier

Multi-Award-Winning Director and Choreographer

2017

Rachel Rockwell

Multi-Award-Winning Actress, Director, Choreographer and Writer

2016

E. Faye Butler

Multi-award winning actress

2015

Dominic Missimi

Multi-Award-Winning Director and Teacher

2014

Paula Scrofano

Multi-Award-Winning Actress

2013

Doug Peck

Multi-Award Winning Music Director/Conductor

2012

Hollis Resnik

Multi-Award-Winning Actress

2011

L. Walter Stearns

Executive Director, The Mercury Theatre




Former Artistic Director, Porchlight

And the Award goes to…
A person who has demonstrated a profound respect and admiration for the art and craft of music theatre.
A person who has made a noticeable impact on the state of the art of music theatre in Chicago.
A person who strives to achieve their best, to create great art, and to share it passionately, proudly and wholeheartedly with an audience.
A person who, in the form of music theatre, has made the community of Chicago a better place for their efforts.
A person who has extended themself to assist others in realizing their desire to participate in the making of music theatre.
(Photo – 2021 Guy Adkins Award Recipient, Felicia P. Fields)
The Guy Adkins Award Selection Committee
E. Faye Butler, Multi-award-winning actress (2016 Guy Adkins Award-winner)*
Gary Griffin, Multi-Award-Winning Director (2019 Guy Adkins Award-winner)
Diane Hires, Past Chair, Joseph Jefferson Awards
James Jensen, Concert Producer & Manager of Special Projects, Drury Lane Theatre, Porchlight Board Member
Sean Allan Krill, Stage and Television Actor, Porchlight Advisory Board Member

Dominic Missimi, Multi-award-winning Director and teacher (2015 Guy Adkins Award-winner)* 

Doug Peck, Multi-award-winning music Director/Conductor (2013 Guy Adkins Award-winner)* 

Hollis Resnik, Multi-award-winning actress (2012 Guy Adkins Award-winner)* 
Rachel Rockwell, Multi-Award-Winning Actress, Director, Choreographer and Writer (2017 Guy Adkins Award-winner)
Michael Weber, Porchlight Artistic Director*Previous winners are invited to become members of the voting committee