Our Performance Home at The Ruth Page Center for the Arts
The Ruth Page Center for Arts (RPC) is located just steps from the Michigan Avenue "Magnificent Mile" in the heart of a lively shopping, dining and cultural district known as the Water Tower Arts District. The historic 1927 building that The Center calls home sits on lovely tree-lined Dearborn Street in the heart of the Gold Coast.
The Ruth Page Center for the Arts carries forward the mission of helping to develop great artists and connect them with audiences and community. Founded by Chicago icon and internationally-renown performer, choreographer and dance patron, Ruth Page, The Center reflects her vision of supporting dance excellence in Chicago. As a prominent force in the Chicago arts community, The Ruth Page Center for the Arts carries on that legacy through its initiatives and programs that nurture the dance art form, and by being an arts incubator for emerging and established artists and arts organizations through its Artist-in-Residence programs. Porchlight Music Theatre is proud to be The Center's newest Artist-in-Residence and eager to collaborate on the many synergies between dance and music theatre; adding to RPC's continued success and creating an even more vibrant center for Chicago performance and education. The Ruth Page Center for the Arts boasts an impressive roster of resident companies including Chicago's first ballet company, Chicago Ballet, who can trace their roots to RPC, as well as Lookingglass Theater Company and Chicago Shakespeare Theater, who both called The Center home before moving on to establish their own venues.
The Ruth Page Center for the Arts features a spacious, yet intimate proscenium theatre, accommodating 218 patrons in both main floor and balcony seating. In addition, RPC has numerous classrooms and rehearsal spaces used primarily for their own dance education programming. For its own productions, Porchlight Music Theatre operates the box office, as well as concessions and merchandise sales.

---
Get more ideas on what to do on the Chicago Travel Guide!



Courtesy of Kayak.com
---
The Ruth Page Center for the Arts
1016 N. Dearborn St.  Chicago, IL 60610
(2-1/2 blocks south of Division St. and 4-1/2 blocks north of Chicago Ave.)
www.ruthpage.org
Porchlight Music Theatre presents its Mainstage and Porchlight Revisits productions at The Ruth Page Center for the Arts. Other programming, such as the New Faces Sing Broadway series and the annual Chicago Sings concert, are held at other venues.
Porchlight's Commitment to Accessibility
The Ruth Page Center is completely handicap accessible with an elevator to the balcony and lower levels. Additionally, we are proud to offer Open Captioned performances and assistive listening devices for each Mainstage production. Click here for more details on this and other accessibility programs.
Photographed: Donterrio Johnson, Lydia Burke and Eustace J. Williams in Duke Ellington's "Sophisticated Ladies" (2020). Photo by Michael Courier.
Ruth Page Center for the Arts
1016 N. Dearborn St., Chicago, IL 60610
(2-1/2 blocks south of Division St. and 4-1/2 blocks north of Chicago Ave.)
---
Public Transportation
The Ruth Page Center is easily accessible by bus (#22, #36, #70 and #156*) and "L" train (Red Line Clark & Division stop), visit the CTA website to plan your trip and for the most up-to-date information! *Please note the #156 LaSalle bus does not operate after 7:30/8:10pm, or on weekends and holidays.
---
Parking
Valet – THE EASIEST OPTION! Valet parking is $17 (cash only) and is located directly in front of the Ruth Page Center entrance beginning 2 hours prior to showtime, allowing patrons to park and pay once and enjoy pre-show dining nearby. And, cars are parked in the garage at the corner of Dearborn and Oak streets for quick return service after the show! 
On-street metered parking – limited street parking is available throughout the neighborhood at $4 per hour with a 2-hour maximum (surge pricing may apply, check meters for current pricing). Note that metered parking across the street (east side of Dearborn) from Ruth Page has more limited hours — please read signs carefully to avoid getting ticketed.
Public parking lots – There are paid lots/garages in the area that can be reserved in advance via a pre-paid parking website/app.
Ruth Page Center for the Arts
The Ruth Page Center for the Arts, North Dearborn Street, Chicago, IL, United States
1016 N. Dearborn St., Chicago, IL 60610
AS OF APRIL 26, 2023:
Porchlight Music Theatre is committed to providing a safe and enjoyable theatre-going experience. We continue to follow all CDC guidelines and public health recommendations.
For Theatre Performances
The following protocols are reviewed on a regular basis and subject to change due to community transmission levels of COVID-19 and public health guidance. 
FACE MASKS
For all Porchlight performances, face masks are recommended but no longer required.
CLEANING & SANITATION
High-touch surfaces, including the concessions stand, displays, will call and box office spaces, are sanitized on a regular basis. Daily cleaning and sanitization of the Ruth Page Center for the Arts will continue to take place.
REFUNDS AND EXCHANGES
Patrons who are not feeling well or who are experiencing symptoms of COVID-19, including fever, shortness of breath or cough, headache, new loss of taste or smell or who have been exposed to COVID-19 within 14 days of their performance date, should not attend performances at Porchlight Music Theatre. If you are unable to attend your scheduled performance due to a COVID related issue, please contact the Porchlight box office to discuss rescheduling, exchanges, refunds or donating your ticket purchase back to Porchlight.
RISK ASSUMPTION
All patrons who attend a performance at Porchlight Music Theatre understand that there is a risk for exposure to COVID-19 in any public setting. Those purchasing tickets and attending productions at Porchlight voluntarily assume all risks associated with exposure to COVID-19 and should consider their own personal health needs when purchasing tickets or attending events.
Patron Code of Conduct
Porchlight Music Theatre is committed to maintaining a safe, comfortable and inclusive environment for all. We expect all our patrons to conduct themselves in ways that support this commitment and to treat everyone — performers, crew, staff, volunteers and other patrons — with respect.
By entering any of Porchlight's performance spaces, patrons agree to the following: 
Patrons will be treated in a professional and courteous manner by all Porchlight staff and volunteers and patrons will, in turn, treat all staff and volunteers in the same manner. 

Patrons will enjoy each performance free from the disruptive behavior of other patrons, including foul or abusive language, obscene gestures, fighting or engaging in other behaviors determined by Porchlight staff to be disruptive or harmful to other patrons, artists, volunteers or staff. Patrons who do engage in such behavior will be asked to leave the venue immediately without refund.

Patrons will not use cameras, video cameras, cellphones, laptops or other electronic devices during the performance, for any purpose other than accessibility technology.

Patrons will sit only in their assigned ticketed seats and show their tickets if requested.

Patrons will comply with requests from Porchlight staff regarding facility operations, health & safety measures and emergency response procedures. 

Patrons will not interfere with the event, artists or crew at any time during the performance unless engaged directly by the artists onstage as part of the performance. 

Patrons will report harmful or inappropriate behavior to Porchlight staff rather than engaging themselves. 
The Porchlight staff has been trained to intervene when necessary and to use their best discretion to help ensure that those who ignore our Patron Code of Conduct do not interfere with other patrons' ability to enjoy an event. Any patron who violates Code of Conduct may be subject to ejection without refund and, to the extent their conduct constitutes a violation of law, may be subject to arrest.
The Ruth Page Center for the Arts – Seating Chart
---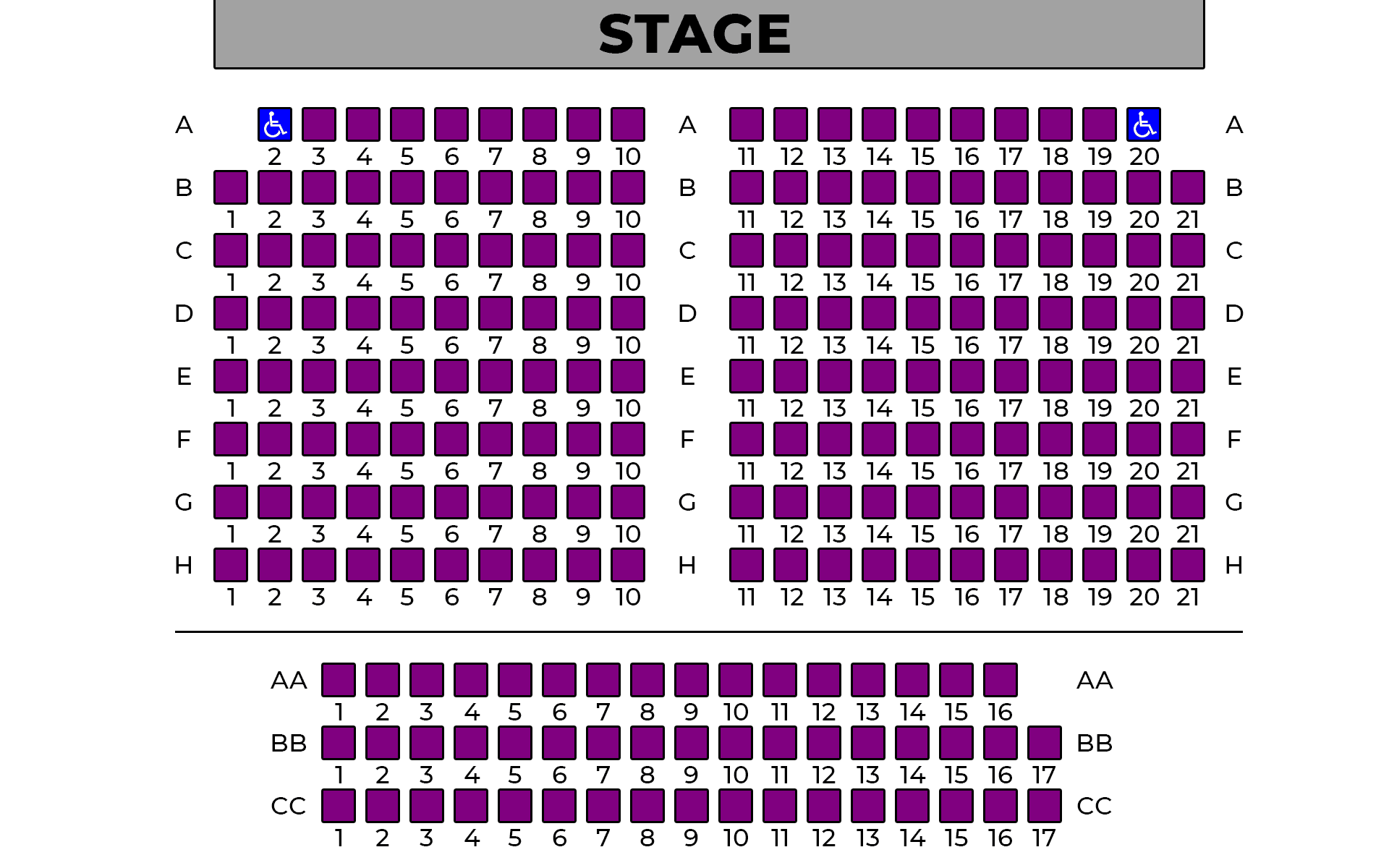 Venue Amenities
Fully accessible, accommodating 218 patrons in comfortable traditional theatre seating on the main floor or balcony (accessible by elevator). Open caption performances and assistive listening devices available.
Valet parking for $15 (cash only), with drop off directly in front of the Ruth Page Center entrance.
Assigned seating (no general admission), selected by you when you place your subscription or single-ticket order.
Loads of dining options – an array of dining options are within a one- or two-block walk of the theater.
Easily accessibility by public transportation – many bus lines are within one block, and the Red Line is just 2-1/2 blocks away.
Local Dining
The Gold Coast is one of the most famous districts in Chicago for dining, an area that's awake long after the Loop has gone to sleep. A variety of options are within within a one- or two-block walk of the theatre.
Check back here for updates as we select our dining partners for the 2021/2022 season!