Sunday, July 12 - 7pm CDT
SUNDAY JULY 12, 2020 – 5 pm PDT, 7 pm CDT, 8 pm EDT
Music of Ludwig van Beethoven
Text by Hershey Felder
Based on the Stage Play Directed by Joel Zwick
---
Porchlight is excited to announce Hershey Felder's Beethoven, live from Florence, Italy on July 12! This one-night, live-stream performance features the brilliant works of Beethoven tied with an illuminating and unforgettable story.
Porchlight Music Theatre is a recipient of 50% of ticket revenue generated by sales from our efforts promoting this production. Please purchase tickets here, and thank you to Hershey Felder for including Porchlight as a partner.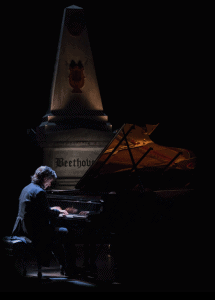 Dramatizing Dr. Gerhard von Breuning's factual memoir, "Aus dem Schwarzspanierhaus," (Out of the House of Black-Robed Spaniards, Beethoven's last residence), Hershey Felder brings Ludwig van Beethoven to life through the eyes of the Viennese Doctor Breuning who spent his boyhood by the Maestro's side.
Featuring some of the composer's greatest works, from the "Moonlight Sonata" and "Pathétique Sonata" to selections from the 5th and 9th Symphonies, and the Emperor Concerto, Hershey Felder's Beethoven is an intense, illuminating, unforgettable journey through time that immerses audiences in the astounding life of Ludwig van Beethoven.
Porchlight will send ticket buyers an individual voucher two days prior to the live-stream that will allow viewing access. Additionally, patrons will have access to an on-demand recording of the live-stream, viewable for 72 hours following the broadcast.
How To Watch
This is a third party presentation presented by Hershey Felder.
Porchlight is not responsible for its content.
---
THE HERSHEY FELDER PRESENTS ARTS PRIZE COMPETITION
In keeping with Hershey Felder's "ENCORE" tradition and audience engagement, Hershey Felder Presents has established THE HERSHEY FELDER PRESENTS ARTS PRIZE COMPETITION* which will be presented as the ENCORE of the Beethoven Performance. Ticket-holders will be invited to cast one vote for their favorite Competition Video using their registered email address, and the competition winner by viewer vote will be awarded $25,000 (twenty-five thousand U.S. dollars).
*NO REGISTRATION FEE OR PURCHASE NECESSARY TO ENTER COMPETITION. PARENTAL CONSENT REQUIRED FOR ANYONE UNDER 19. Registration ends 7/6/20. Submissions must be uploaded by 7/7/20, subject to live "Voting Period" on 7/12/20. Open to U.S. legal residents who are 13 years of age or older at time of entry. Subject to full Official Rules available at https://www.hersheyfelder.net/contest-page. Void where prohibited or restricted by law.