Porchlight Music Theatre announces the latest offering in its 2022 – 2023 season, New Faces Sing Broadway 1984, hosted by Honey West (she/her/hers), directed by Tommy Novak (they/them/theirs) with music direction and arrangements by Micky York (he/him/his). New Faces Sing Broadway 1984 takes place Tuesday, April 25 at 7:30 p.m. at Evanston SPACE, 1245 Chicago Ave. in Evanston and Wednesday, April 26 at 7:30 p.m. at The Den Theatre, 1331 N. Milwaukee Ave. There will be a pre-show lobby gathering at The Den Theatre beginning at 6:30 p.m. with complimentary appetizers and a cash bar.
Now in its eighth season, Porchlight Music Theatre's New Faces Sing Broadway series returns, taking audiences on a musical journey from the start to the finish of an entire Broadway season in 90 minutes. Host Honey West will introduce the audience to the next generation of Chicago music theatre artists while serving as the guide to the stars, songs and stories of the past. New Faces Sing Broadway 1984 includes hit songs from the seminal age of Broadway musicals including La Cage Aux Folles, Sunday in the Park with George, Baby, The Rink and others.
Single tickets to the performances are $37.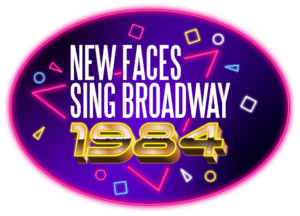 ---
WHAT IS NEW FACES SING BROADWAY?
Porchlight's series is inspired by a set of musical revues produced from 1934-1968 entitled "New Faces" which was instrumental in introducing the public emerging talent with names like June Carrol, Robert Clary, Imogene Coca, Jane Connell, Professor Irwin Corey, Henry Fonda, Alice Ghostley, Ronny Graham, Billy Hayes, Tiger Haynes, Van Johnson, Madeline Kahn, Eartha Kitt, Robert Klein, Carol Lawrence, Paul Lynde, Virginia Martin, Bill McCutheon, John Reardon, Maggie Smith, Inga Swenson and many, many more.
Many of the artists who have appeared in Porchlight's New Faces Sing Broadway series have continued their careers on television, and local and national stages including Neala Barron (Porchlight's Merrily We Roll Along), Frankie Leo Bennett (Porchlight's In the Heights), Dawn Bless (Waitress-national tour), Katherine Bourne (School Girls; Or, the African Mean Girls Play at Goodman Theatre), Kayla Boye (Call Me Elizabeth-national tour), Anna Brockman, Tim Foszcz, Haley Gustafson, Josiah Haugen, Cam Turner, Jerod Turner and Evan Wilhelm (Porchlight's Cabaret), Lydia Burke and Molly Kral (Jeff Award winners [ensemble] Sophisticated Ladies), Darilyn Burtley and Max Cervantes (The Light in the Piazza at Lyric Opera of Chicago), Kyrie Courter (Broadway's Sweeney Todd), Maddison Denault and David Moreland (Jeff Award-nominees, Cruel Intentions), Gilbert Domally (Broadway's The Lion King), Andres Enriquez (Jeff Award nominee-Porchlight's A Gentleman's Guide to Love and Murder), Nik Kmiecik, Ziare Paul-Emile and Alix Rhode (Porchlight's Rent), Theo Germaine (Showtime's "Work in Progress"), Lucy Godinez (Jeff Award nominee-Oliver), Emily Goldberg (Jeff Award nominee-Porchlight's A Gentleman's Guide to Love and Murder), Nicole Michelle Haskins (Jeff Award winner-The Color Purple), Michelle Lauto (Jeff Award winner-Spamilton), Yando Lopez (Broadway's Wicked), Henry McGinniss (Book of Mormon-national tour), Brandy Miller and Bryce Ancil (Jeff Award-nominees She Loves Me), Chloé Nadon-Enriquez (Broadway's Bad Cinderella), Anthony Norman (The Prom on Broadway, Dear Evan Hansen-national tour), Patrick Rooney (Les Miserables-national tour), Aalon Smith (Porchlight's Gypsy), Katherine Thomas (Jeff Award winner-Ragtime), Aeriel Williams (Oedipus Rex at Court Theatre) and Nicole Lambert, Courtney Mack, Mallory Maedke and Samantha Pauly (SIX on Broadway).
---
HOST
Honey West (she/her/hers) was most recently seen in Clue and as "Bernadette" in Priscilla Queen of the Desert at Mercury Theater Chicago, (the role she previously received a Jeff Nomination for Best Supporting Actress, in addition to a Best Actress award from BroadwayWorld.com.)  La Cage Aux Folles as "Jacqueline/U/S Albin" at Music Theater Works, "Danni" in Irving Berlin's Holiday Inn at Drury Lane Theater and "Mrs. Cratchitt/Electra" in Gypsy at Porchlight Music Theatre. She starred in Dirty Dreams Of A Clean-Cut Kid, Vampire Lesbians Of Sodom, Diva Diaries, Jerry's Girls, Tony And Tony's Wedding, As You Like It and Pussy On The House. She was a 2012 inductee into the "Chicago Gay and Lesbian Hall of Fame". Currently she is working on a new cabaret act and an autobiographical one woman show. She also landed a co-starring role on Fox's "Proven Innocent."
---
DIRECTOR
Tommy Novak (they/them) is a non-binary Chicago-based theater artist, international director, vocal coach and movement specialist. They return to Porchlight where they were seen in Billy Elliot The Musical and Porchlight Revisits Do Re Mi. They directed The Spongebob Musical For Young Audiences (First Stage), Romeo and Juliet (Arkansa Shakespeare Theatre), Songs for a New World (Carthage College) and Danny and the Deep Blue Sea (Coastline Theater). Additional credits include Fiddler on the Roof (Lyric Opera of Chicago), The Producers (Night Blue; Jeff nomination); Little Shop of Horrors (Mercury Theater Chicago), Hairspray (Skylight Music Theatre), Love's Labour's Lost, King John (Utah Shakespeare Festival), The Music Man and Taming of the Shrew (Arkansas Shakespeare Theater), Rudolph In The Red-Nosed Reindeer™: The Musical and Robin Hood (First Stage). Novak is represented by Paonessa Talent Agency. 
---
MUSIC DIRECTOR
Micky York's (he/him/his) Chicago theatre credits include Porchlight Revisits Call Me Madam (Porchlight), Whisper House and Dr. Horrible's Sing-Along Blog (Black Button Eyes Productions), Happy End (2007 After Dark Award – Outstanding Music Direction) and Jacques Brel (Brown Couch, RIP) and a variety of musicals over the past 20 years for other theatres that no longer exist. He's a current member of Dancing Queen: An ABBA Salute and can likely be seen at a street festival near you.
---
MEET THE NEW FACES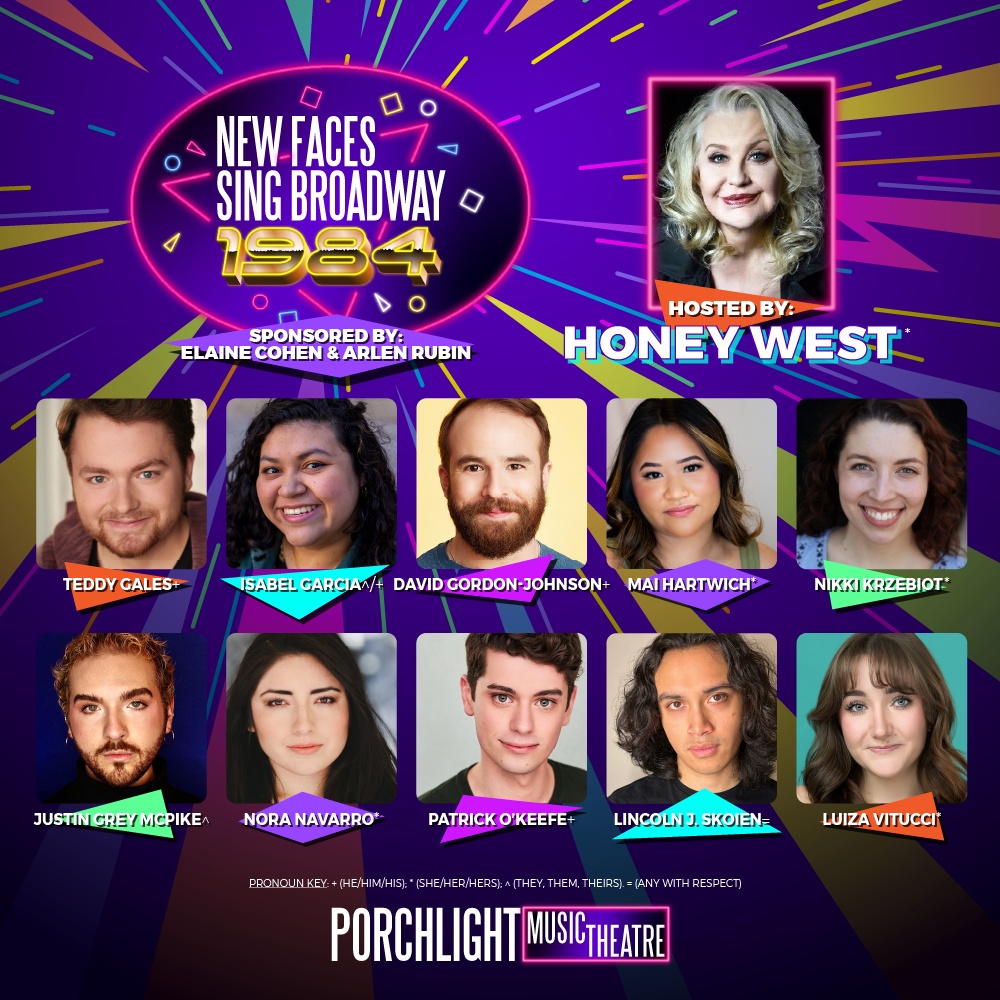 ---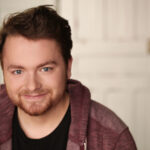 TEDDY GALES (he/him)
Chicago Credits: "Governor/Senator/Mayor" in The Best Little Whorehouse in Texas (Theo Ubique Cabaret Theater). National Touring Credits: "Patrick Star" and "Mr Krabs Swing" in The Spongebob Musical (Nickelodeon). TV Credits: "Chicago Fire." Creative Director at "Fresh Hell Studios" IG: @freshell_sketch 
---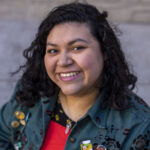 ISABEL GARCIA (they/he)
Isa is more than excited to be making their Porchlight debut with New Faces Sing Broadway: 1984! Previous Credits include: "Beggar Woman" in Sweeney Todd; The Demon Barber of Fleet Street (Kokandy Productions), ensemble in Threepenny Opera (Theo Ubique), Trans Voices Cabaret (Theo Ubique) and "Jenna" in Be More Chill (New Line Theatre). Mucho amor por todo mi familia, born and chosen, for their overwhelming support. You walk with me, always. 
---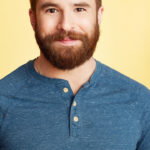 DAVID GORDON-JOHNSON (he/him)
David Gordon-Johnson is thrilled to be making his debut with Porchlight with New Faces Sing Broadway 1984. Select Chicago credits include "Leo Doyle" in And Neither Have I Wings to Fly (First Folio Theatre), "Polixenes" in The Winter's Tale (Oak Park Festival Theatre), Hundred Days (Kokandy Productions), Hello Again (Theo), Southern Gothic (Windy City Playhouse), and Tug of War: Civil Strife (Chicago Shakespeare Theater). 
---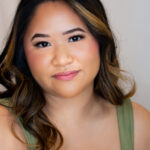 MAI HARTWICH (she/her)
Mai Hartwich is thrilled to be making her Porchlight Music Theatre debut. Recently, she was seen playing "Christmas Eve" in Avenue Q (Music Theater Works). Other Chicago credits include "Ensemble" in Mamma Mia! (Dominican University) and "Aunt Em/Ensemble" in The Wizard of Oz (AlphaBet Soup Productions). Notably, she has played "Percy" in The Spitfire Grill (Hackmatack Playhouse) and "Mimi" in Rent (Firehouse Center for the Arts).
---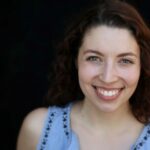 NIKKI KRZEBIOT (she/her)
Nikki Krzebiot is overjoyed to finally be making her Porchlight debut in this iconic concert series. Favorite Chicagoland roles include: "Johanna" in Sweeney Todd (Kokandy), "Sarah Brown" in Guys and Dolls (Janus Concert Series), "Rona Lisa Peretti" in The 25th Annual…Spelling Bee and "Miss Amelia" in The Little Princess (both with Windy City Performs). She is also a cabaret veteran who has self-produced four original shows and regularly performs with Acts of Kindness Cabaret. You can catch her singing show tunes as a server at Davenport's or watching rom coms in her apartment. Thanks Micky, Frankie, Chris and the rest of the Porchlight team for this opportunity!
---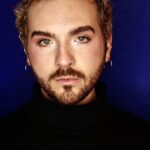 JUSTIN GREY MCKPIKE (they/them)
Justin Grey McPike (they/them/theirs) is a Non-Binary performer based in Chicago. They are thrilled and grateful to be making their Porchlight debut! Recent Chicago credits include Ensemble/Blaine US in Cruel Intentions: The 90s Musical (KoKandy Productions) and a soloist in Disney Deep Dive (The Beautiful City Project). Other credits include: "ensemble/Baldy U/S" in A Man of No Importance (dir. Jermaine Hill), ensemble in Allegro (dir. Justin Brill) and "Theo" in Roll With It: A New D&D Musical. Justin also performs and choreographs burlesque and can be seen in Burlesque Is More at The Annoyance Theatre & Bar. They thank their partner, mother and friends for always supporting them! Justin graduated from Columbia College Chicago in 2022 with a BFA in musical theatre performance. 
---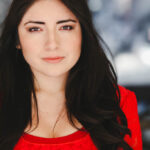 NORA NAVARRO (she/her)
Nora Navarro – Chicago Area: "Woman 1" in Songs for a New World (Theo), "The Nurse" in Hello Again (Theo) New York: Barely Legal (Le Poisson Rouge), Broadway Sessions (Laurie Beechman), and "The Night Shift" (NBC). Nora is thrilled to be performing with Porchlight for the first time. She is proudly represented by DDO Chicago.
---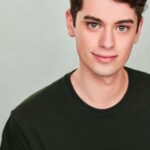 PATRICK O'KEEFE (he/him)
Patrick O'Keefe is making his Porchlight debut! Most recently, Patrick was seen as "Toby" in Sweeney Todd: The Demon Barber of Fleet Street (Kokandy), for which he won the Non-Equity Jeff Award for Supporting Performer in a Musical. Other Chicago credits include: The Drag Seed (Hell in a Handbag); 8-Track: The Sounds of the 70s (Theo Ubique) [Jeff- Ensemble]; Mamma Mia! (Music Theatre Works), Head Over Heels (Kokandy).  So much love for my friends, family and teachers. IG: @pat_okeefe 
---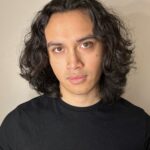 LINCOLN J. SKOIEN (any with respect)
Lincoln J. Skoien is thrilled to be making his Porchlight debut with the rest of these new faces! A soon-to-be graduate of CCPA with a BFA in Musical Theatre some of Lincoln's most recent credits include: "Franklin Shepard" in Merrily We Roll Along, "Pat Denning" in 42nd Street and "Hubert" in King John all at CCPA. Huge thank yous to family, friends and Emma for the unending love and support 🙂 IG: lincoln.skoien
---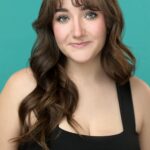 LUIZA VITUCCI (she/her)
As a very "New Face" to the city, Luiza is jazzed to be a part of this show! CHICAGO:  ensemble in The Threepenny Opera (Theo). REGIONAL: "Bella Rose" in Desperate Measures (Rocky Mountain Repertory Theatre), "Pattie" in Beehive (Rocky Mountain Repertory Theatre) and "Sr. Mary Downey" in Disaster! (The Barn Theatre). Many thanks to the Porchlight Music Theatre community for welcoming her with open arms! 
---
The New Faces Sing Broadway series is sponsored by Elaine Cohen & Arlen D. Rubin
Porchlight Music Theatre is partially supported by generous contributions from  Allstate; Michael Best & Friedrich LLP; Abe and Ida Cooper Foundation; Elegant Event Lighting; Glimpse Vision; James P. and Brenda S. Grusecki Family Foundation; Hearty Boys; A.L. and Jennie L. Luria Foundation; The MacArthur Fund for Culture, Equity and the Arts at Prince; the Pritzker Traubert Foundation; Ryan and Spaeth, Inc.; Daniel and Genevieve Ratner Foundation; The Saints and Dr. Scholl Foundation.
The season program is partially supported by a grant from the Illinois Arts Council Agency, a state agency, and by a CityArts Grant from the City of Chicago Department of Cultural Affairs & Special Events.
Porchlight Music Theatre wishes to thank members of the Matching Gift Corporate Program including Abbvie; Allstate; Lloyd A. Fry Foundation; Peoples Gas; Pepsico; Polk Bros Foundation and The Saints.