Enthusiast & Engagement Classes
Porchlight is excited to offer a series of classes designed for our patrons to deepen their understanding and appreciation for the art and history of Musical Theatre.
Current Offerings

"Look, I Made a Hat"
The Works of Stephen Sondheim
Sunday in the Park with George through Road Show
with Cheri Coons
Sundays from 1:00 – 3:00 pm
A fun and inspirational class for fans of Stephen Sondheim, and those who appreciate the behind-the-scenes stories of how great musicals are made.
In an informal, conversational atmosphere, we'll explore Sondheim's later shows, Sunday in the Park with George, Into the Woods, Assassins, Passion, and Road Show, as well as some of the other interesting work he has made, including the film score for Dick Tracy, and the film version of Into the Woods. We'll get to know Sondheim's collaborators, including the stars who created the leading roles in many of these shows. Besides the real-life dish about the creation of these musicals, we'll explore each show from the inside out, through class presentations, discussions, and recorded audio and video selections.
By the end of the class you'll have a new appreciation for these enthralling masterworks, and the amazing composer/lyricist who created them.
Round Two: February 21 – March 28
**Please note: sign up for either Round One OR Round Two. The same class is offered twice to accommodate more participants.
$150/person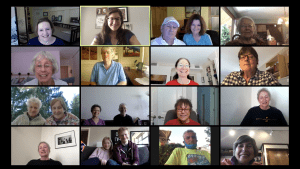 ---
If you're interested in joining us for any of the upcoming Engagement Classes and have questions or want to suggest a new class, please email rebeccah@porchlightmusictheatre.org. We always love to hear what you want to learn about!