Porchlight Young Professionals
Founded in 2018, the Porchlight Young Professionals (PYP) is an ensemble of young professionals who share a passion for advancing music theatre in Chicago as well as the innovative and transformative art of going behind the scenes.
The PYP inspires the next generation of Porchlight's theatre patrons and serves as ambassadors through fundraising, event planning, and committee involvement.
PYP Members receive exclusive invitations to exciting events and are instrumental in the growth of Chicago's Home for Music Theatre. To learn more, contact August Compton, Porchlight Young Professionals member and Audience Services Manager at august@porchlightmusictheatre.org.
Are you culturally curious? Passionate about the arts?
Interested in meeting new people while championing a great cause?
Join the Porchlight Young Professionals! If you are a Chicago area young professional, aged 21-40, looking for a unique and fun way to network with other young professionals, join our new and dynamic group! As a founding member, you'll be given behind-the-scenes access, enjoy a variety of opportunities to meet other young theatre lovers and arts enthusiasts, and receive invitations to exciting events, as well as being instrumental in the growth of Chicago's Home for Music Theatre.
---
To learn more, contact August Compton, Porchlight Young Professionals member and Audience Services Director at august@porchlightmusictheatre.org.
Photo credit: J.C. Brooks in "Chicago Sings 25 Years of Porchlight" (2019). Photo by Michael Courier.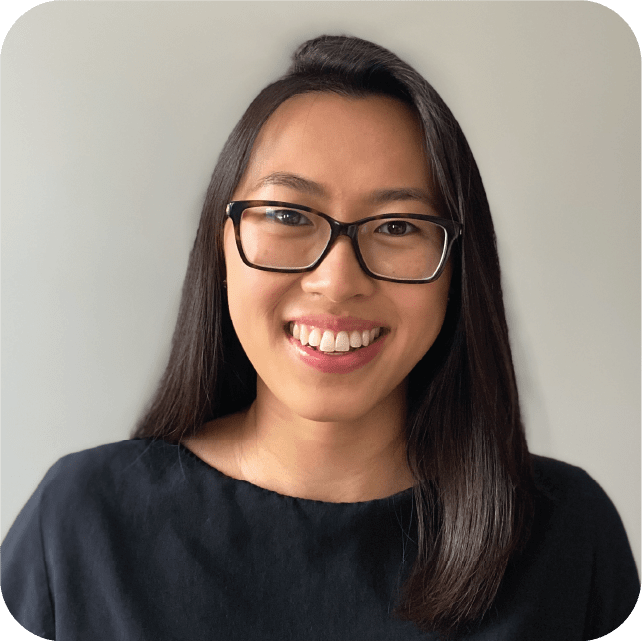 Lynn Barlow (she/her) / Chicago, IL
After graduating from Loyola University Chicago with a B.S. in Psychology and a minor in Asian Studies, Lynn has worked in social services and early childhood education for nonprofits in the Chicagoland area. As a lifelong theatre lover, she is excited to support Porchlight's excellent productions and programming. Lynn looks forward to connecting with members of the vibrant Chicago theatre community and introducing more theatre enthusiasts to Porchlight. In addition to her appreciation for the performing arts, Lynn enjoys baking, long-distance running, and traveling.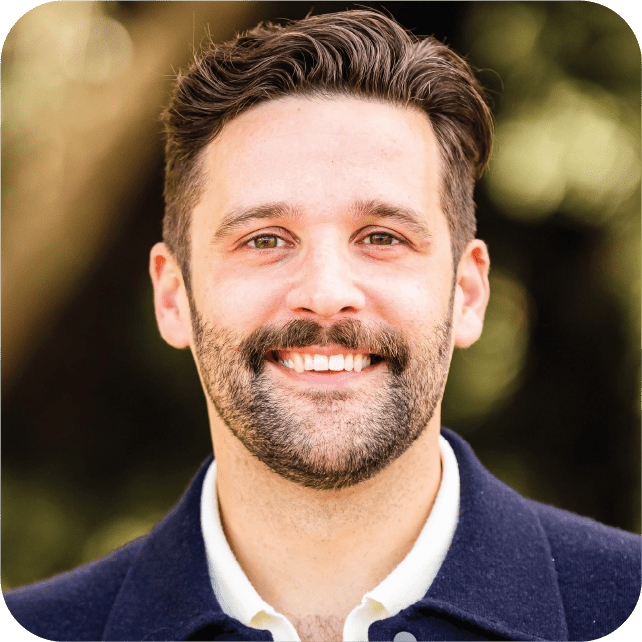 Cody Czmyr (he/him) / Chicago, IL 
Cody is thrilled to have found his way back to the stage, albeit in a different capacity with PYP. He currently serves as the Director of Marketing, Communications and Membership for the Restaurant Technology Network, an affiliate of EnsembleIQ. Cody also serves as the Secretary for the Eastern Illinois University Alumni Association Board of Directors as well as volunteers with several other Chicago area organizations. He is a 2010 graduate of EIU having received a BA in Hospitality Management. Cody resides in the Lakeview neighborhood with his husband, John, and their bunny Cadeau.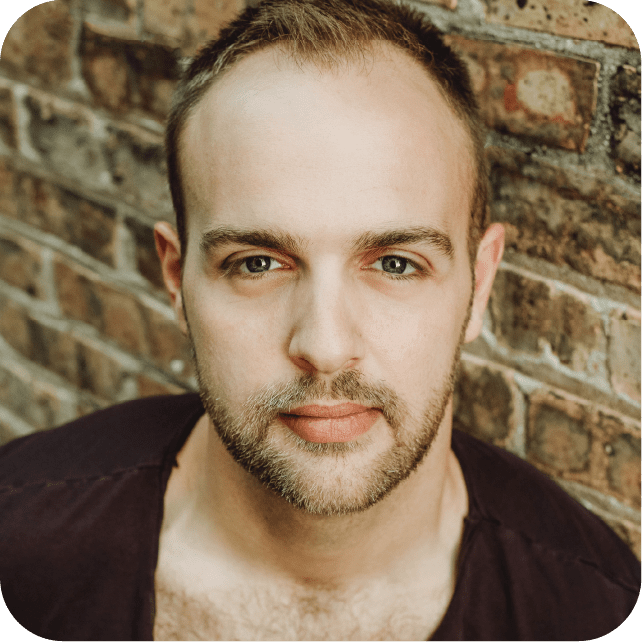 Nate Groonwald (he/him) / Chicago, IL
Nate is currently a Philanthropy Officer at Lyric Opera of Chicago. He has worked in the non-profit arts space for over ten years, starting his career at Porchlight Music Theatre. Nate has worked at prominent arts organizations across the country including Milwaukee Repertory Theatre, Studio Theatre (Washington DC), and the Milwaukee Symphony Orchestra, where he co-created Bravo, the Milwaukee Symphony's young professionals donor and affinity program. Nate received his Bachelor's of Music from Roosevelt University, Chicago College of Performing Arts. A former actor and director, Nate has directed multiple acclaimed productions including Into the Woods, Mamma Mia, Mary Poppins, Bonnie and Clyde, Legally Blonde, and others at various theatre companies in Wisconsin. @natecgroon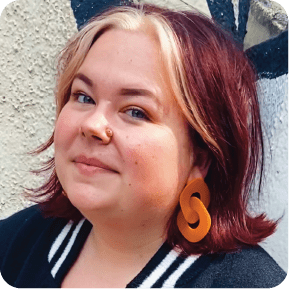 Rosie Schultz (she/her) / Chicago, IL 
Rosie Schultz has been part of the Porchlight family since 2016 and is a founding member of the Porchlight Young Professionals. She moved to Chicago from Durango, Colorado in 2013 to attend Columbia College and immerse herself in everything the city has to offer. She loves supporting Chicago's theatre community in her career and free time, she is currently the Director of Donor Engagement at TimeLine Theatre Company. Outside of the theatre Rosie can be found throwing dinner parties, hanging out with her cat, Lemon, or enjoying one of the city's lovely parks!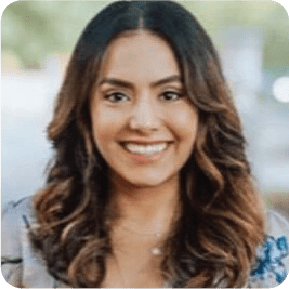 Yessenia Sosa (she/her) / Chicago, IL
Yessenia has been a lover of fine arts, particularly music theater, for as long as she can remember. She graduated from The University of Texas at Austin and moved to Chicago to work as a Strategy Consultant at a major accounting firm. Porchlight and the PYP community represent Yessenia's creative outlet to engage with a community of fellow arts lovers and continue to explore the incredible theater scene Chicago has to offer.
Lanie Bayless (she/her) / Chicago, IL
Lanie is thrilled to be a part of the Porchlight Young Professions! She has loved theater from a young age; Lanie was raised in a family that saw theater almost every Sunday and listened to showtunes instead of classic rock. She turned her love into a true focus and attended the Chicago Academy for the Arts in the Musical Theater department, followed by NYU's Tisch School of the Arts to where she continued her studies at CAP21.  Lanie moved back to Chicago to join her family's restaurant business (Frontera Grill) in 2016, but her passion for musical theater still lives on through her work with PYP… and the occasional showtune singalong! Lanie lives in the Bucktown neighborhood with her husband, Kevin, and daughter Charlie (2), to whom she hopes to pass on her love of musicals.
Becca Sheehan (she/her) / Chicago, IL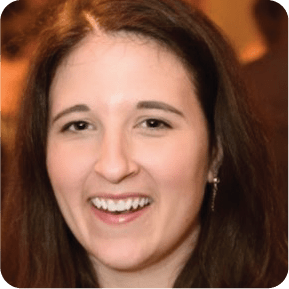 Lisa Villani-Gale (she/her) / Chicago, IL
Lisa is a nonprofit professional with more than a decade of experience in fundraising and communications. She currently serves as a Major Gifts Officer at Planned Parenthood of Illinois. Lisa holds a Masters Degree in Nonprofit Administration and a Bachelor's Degree in Music Performance from Clark University before moving to Chicago in 2013. A lifelong musical theatre enthusiast, she is thrilled to combine her passions and help to bring in new young patrons to the Porchlight community. In her free time, Lisa enjoys weightlifting, hosting poker games for her friends, and playing violin.
The Porchlight Young Professional Board a crucial part of the Porchlight community, providing volunteer support while guiding the strategic direction of the organization. Members inspire the next generation of theatre audiences and serve as ambassadors for fundraising, event planning and committee involvement.
PYP Board members will:
– Contribute an annual donation of $100 or more
– Attend monthly meetings
– Serve on at least one committee: Membership, Marketing, or Events and Fundraising
– Volunteer at one major fundraising event per year – Chicago Sings or the ICONS Gala
– Attend PYP-hosted events
Member benefits include:
– Discounts to Porchlight performances and events
– Invitations to exclusive donor events such as opening night receptions, cast meet & greets and holiday parties
– Volunteer opportunities
– Networking opportunities with other young professionals
– Donor benefits such as PMT merchandise, recognition in show programs, etc.
If you would like to learn more about becoming a member of the Porchlight Young Professionals Board, please contact Kellie Buffington, Development & Administration Associate and PYP member, at kellie@porchlightmusictheatre.org.
With our Young Professionals packages, the choice is yours! 
By offering a variety of options for you to consider, you can create the perfect season for you! Select from Mainstage, Porchlight Revisits, or New Faces Sing Broadway performances, attend all of our Mainstage productions, or mix and match between your favorites. 
The Aficionado – $125: 5 tickets to be used for Mainstage, Porchlight Revisits or New Faces Sing Broadway performances. 
The Enthusiast – $100: 4 tickets to be used for Mainstage, Porchlight Revisits or New Faces Sing Broadway performances.
The Admirer – $75: 3 tickets to be used for Mainstage, Porchlight Revisits or New Faces Sing Broadway performances.
Tickets must be reserved in advance by contacting the Porchlight Music Theatre Box Office.
Watch exclusive behind the scenes content from PMT's Mainstage productions!
Check back for more updates on upcoming videos and photos for Porchlight's production of Cabaret! Previews begin January 14.
---
LEARN MORE ABOUT THE HISTORY OF CABARET
CABARET ORIGINS
CABARET INFLUENCES
CABARET AT PORCHLIGHT
---
MEET THE CAST & COMPANY OF CABARET
.
---
LEARN MORE ABOUT THE HISTORY OF RENT
RENT ORIGINS
Transcript:
When it opened on Broadway in 1996, RENT was hailed by critics as daring and exhilarating. Beloved by a devoted, ever-growing fanbase, the show spoke powerfully to the spirit of its moment and went on to become one of the most popular, successful and influential musicals of all time. RENT won 4 Tony Awards including Best Musical and was awarded the Pulitzer Prize for Drama. It ran on Broadway for more than 12 years. When it closed in 2008, it had played more than 5,000 performances – making it the seventh-longest running show in Broadway history at the time. In the last 25 years, it has toured the U.S. and Canada multiple times, been produced in 50 countries and translated to 25 languages. In 2005, a feature film adaptation starring members of the original Broadway cast was released by Sony
Pictures, and a live televised version aired in 2019.

RENT was written by Jonathan Larson, a tireless, ambitious composer and lyricist determined to bring something new to the evolution of musical theater, and who tragically did not live to see the massive impact of the show he had poured himself into for years. He died suddenly at 35, from an aortic aneurysm just hours after the final dress rehearsal for the off-Broadway production of RENT. Larson grew up listening to folk music, opera and musical theater. He also loved artists like Billy Joel, Elton John, the Beatles, the Who, Prince and Kurt Cobain. He attended Adelphi University with plans to focus on acting, but gravitated toward writing – which would become his focus for the rest of his life. After college, Larson moved to Manhattan, where he lived in a shabby fifth-floor walkup on the edges of the West Village and SoHo. He worked part-time at the Moondance Diner for more than nine years to support himself while he wrote musicals. This time in Larson's life, and his work on Superbia – an unproduced futuristic musical inspired by the novel 1984 – is depicted in tick, tick… BOOM!, a musical adapted from Larson's one-man show, a film version of which was released in 2021.

Larson had a vision for what a modern musical could be. He wanted to bridge the gap between musical theater and contemporary popular music – to write shows reverent to the traditions of musical theater, but also politically engaged and that could bring together the visceral ethos of rock with the lyrical focus on storytelling that's vital to the theater. He was known to earnestly tell new acquaintances that he was the future of the American musical.

Larson was influenced by shows like Hair and Jesus Christ Superstar, as well as the work of Stephen Sondheim. But what he envisioned hadn't been done in years; megamusical spectacle dominated and although there were shows that used rock and pop music being produced, they stemmed from concept albums by popular musicians or borrowed from other periods, like Dreamgirls and Little Shop of Horrors. Larson believed it was time for a change – for a musical to speak to (and in the musical language of) his generation.

RENT takes place in Alphabet City, a part of New York's East Village. When Larson was writing in the '80s and '90s, New York was in the midst of multiple crises. Economic decline in the '70s had caused decreased commerce and cuts in public services, leaving many neighborhoods in disrepair. Amid financial difficulties, buildings were foreclosed on and abandoned. The city saw increases in homelessness and drug use, and some of the highest crime rates in its history. The AIDS crisis was tearing through the city, devastating communities.

While the East Village was struggling at this time, it was also home to a vibrant community of progressive artists and activists. It was central in the fight to preserve affordable housing and the locus of movement of squatters who sought to reclaim and rehabilitate their neighborhoods. Visual artists contributed socially engaged, politically charged work to these causes and community interest groups.
Downtown Manhattan was the birthplace of AIDS activist organizations like ACT UP, and a hub for offbeat creative communities: performance artists – like those who inspired the number "Over the Moon" – punk and grunge musicians like Roger, and a dynamic burgeoning drag scene. Larson was writing in response to the world around him, capturing a generation living through difficult times in a community surrounded by strife – but who found joy, hope and love amid fear and pain.
RENT INFLUENCES
Transcript:
RENT is based on La Bohėme, an opera about a community of artists living in poverty amid disease in Paris in the 1830s. In 1989, Jonathan Larson was approached by playwright Billy Aronson about collaborating on a modern adaptation of the opera. Both writers saw similarities between their surroundings in New York and the conditions faced by the characters in La Bohėme. The collaboration with Aronson fizzled out, but Larson later chose to move forward with RENT on his own. He was inspired by the spirit of the East Village community, and also drew on experiences from his own life. Larson saw himself and his friends – a community of artists making their way through challenging times – reflected in the characters in La Bohėme and there are aspects of RENT that were personal to him.

Larson, like some of his characters, made sacrifices in his lifestyle to pursue his dream. He cobbled together part-time work to support himself but he still struggled financially. Fostering a close-knit community like the one depicted in RENT was important to him: he and his roommate had a tradition called the Peasant Feast, a holiday-season potluck featuring impromptu performances shared among friends and neighbors. The night before rehearsals for the original production of RENT began, Larson hosted a Peasant Feast for the cast, noting in his speech that the show reflected parts of his life and people in it. Although tick, tick…BOOM! is the most autobiographical of Larson's works, several moments in RENT come directly from Larson's life.

Larson and his roommate had an illegal wood burning stove – like the one Mark and Roger have – that they used when their building had no heat. Their door buzzer did not work, so like in the opening number, visitors had to call and have a key dropped down to the street. The Life Cafe, where the Act One finale takes place, was an East Village institution from 1981 until its closure in 2011. Larson visited the cafe from time to time and as RENT gained popularity, it became a treasured destination for fans of the show. In 2008, a few days ahead of RENT's final performance on Broadway, the cafe's owner unveiled a bench dedicated to Larson, surrounded by tributes to his memory and the impacts of the show.

A major reason that Larson continued to work on RENT was the impact of the AIDS crisis on his community. When he was writing, AIDS was one of the leading causes of death among young people in New York and the city accounted for nearly 20% of the country's cases. The epidemic was hitting New York's arts communities particularly hard, and touched Larson's life directly in several ways.

In the mid-1980s, Larson's childhood best friend told him that he was HIV positive. Later, three more friends were diagnosed and by the time RENT went into rehearsals, all three had died. Their names (Gordon, Ali, and Pam) appear in the libretto during the support group scene, however actors are offered the option to substitute names of their own friends lost to the disease if they so choose.

Larson accompanied his friend to meetings at Friends in Deed, an organization that offered counseling, workshops, and other services to people with HIV/AIDS and other life-threatening illnesses. The principles that Larson was exposed to at Friends In Deed deeply influenced the ideas that make up the heartbeat of RENT. Counseling at Friends In Deed focused on helping people cope with fear, find hope and live full lives. The support group scene is modeled after a Friends In Deed meeting and you'll see its philosophies in lyrics throughout the show – including the very concept of "no day but today." They are woven into Larson's deliberate choice to create a show about focusing on love and celebrating life. Like Mark, Larson sought to document and memorialize his community. In capturing what was important to him, he would also create his own legacy in the New York theater community and beyond.

After transferring to Broadway, RENT became a cultural phenomenon and established Larson as one of the most important voices in American musical theater. RENT influenced hit shows like Spring Awakening, In The Heights and Hamilton. A grant supporting early career musical theater writers was established in Larson's memory. Awardees include the writers of Dear Evan Hansen and Be More Chill. Larson's work ushered in the future he had wanted for Broadway.
PORCHLIGHT'S RENT
Transcript:
RENT was created with inspiration from Jonathan Larson's observations of the world around him and his own personal experiences. In the same way that Larson recognized parallels between the world he was living in and challenges that Pucchini wrote about in La Bohème, his writing sustains its power for modern audiences a quarter of a century on. The timelessness of Larson's genius and his capacity to capture an ethos both of his moment and universal drove Porchlight's decision to produce RENT this year. Our production aims to highlight things that Larson was passionate about platforming in his work and that maintain relationships to the battles we are still fighting today.

Larson wanted his work to raise awareness of social justice issues. Our production seeks to capture the political energy that he infused into RENT by setting it in 1991 and 1992, inclusive of the presidential election in which Bill Clinton defeated George H.W. Bush's bid for a second term. RENT's characters are committed to their beliefs, and you will see the activist spirit of their community in elements of our production's design. For example, several of our creative team's choices are meant to invoke the AIDS ribbon, a symbol of support and awareness that was introduced in 1991. You may notice the significance of red, as well as the shape of the ribbon itself in some elements of the design. You may also spot references to activist causes that were significant to Larson and his community on the set.

Another central factor in director Adrian Abel Azevedo's decision to set Porchlight's production in 1991 and 1992 is the enormous shadow the AIDS crisis casts over RENT's story. It was important to Larson to show that the impact of AIDS was not confined only to certain communities but that its reach was sprawling and it affected everyone. Our production begins in the year that the CDC reported a grim milestone – an estimated total of 1 million HIV infections and warned that in the next two years as many as 200,000 of those people were expected to die – and at a time where AZT was at its most widely used. You will see several representations of AIDS in the visual language of our production, including a reference to the AIDS Memorial Quilt, alluded to on stage in the spirit of Larson's devotion to commemorating and celebrating his loved ones through his creativity.

It was important to Adrian to present a version of RENT that is grounded in the world Larson was writing in. After focusing on other projects following the end of his collaboration with Billy Aronson on RENT, Larson picked the show back up again in 1991 and pitched it to the New York Theatre Workshop — where it was developed and first produced — in 1992. By drawing from the period in which the show as we know it today began to take shape, our production acknowledges that Larson was living in and affected by the world you will be seeing on stage.

To honor this, elements of our design also express themes that were fundamental to Larson. For example, parts of the set are inspired by the idea of an artist documenting his life and the things he cares about, creating a record of meaningful moments and memories. The presence of particular colors in some characters' costumes, and the ways in which they evolve as time passes throughout the show, signify not only illness progressing but also love and life – three themes inextricably bound in RENT's message. Our creative team also drew inspiration from spaces of unexpected greenery – like the East Village's community gardens – amid the harsh industrial structures of New York City. These spaces conjured parallels to the resilience of life despite hardship, a central element of the story told in RENT.

In the 26 years since RENT ignited a new era of musical theater, its incredible ability to connect with audiences far and wide has solidified its place in history. Larson's skill for capturing his world and his feelings in a story and songs that continue to resonate remind us that great art like his needs to be revisited again and again – and can be approached in fresh ways. As we live through events today that echo the past – a pandemic, battles for healthcare and reproductive rights – our production offers a new – and distinctly Porchlight – approach to the show. Whether you're a seasoned RENT-head, revisiting the show after a long time, or encountering it for the first time, Porchlight's production invites you to embrace Larson's message of measuring life in love even in the hardest times and its meaning in our modern world.
---
CATCH THE CAST OF RENT ON WGN'S AROUND TOWN
---
INTERVIEWS WITH THE COMPANY OF RENT
---
MEET THE CAST & CREATIVE TEAM OF RENT
---