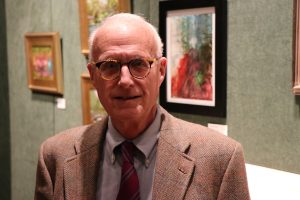 We are heartbroken at the passing of long-time board member George K. "Kim" Sargent III. We will forever be grateful for his leadership, generosity and enthusiasm.
Read Kim's obituary in the Chicago Sun-Times here.
Porchlight celebrates the life and leadership of board member Kim Sargent. Kim's most visible role was as "lobby greeter" at Porchlight productions, giving countless hours of his time before performances — at both Stage 773 and the Ruth Page Center for the Arts — to welcome and mingle with our patrons, get their feedback, and spread the good news about Porchlight
Kim was very active on Porchlight's marketing and finance committees, and was an invaluable mentor and advisor to the staff. His commitment and excitement for the company's organization growth was truly instrumental in getting Porchlight to where it is today.
Being raised in New York City, Kim's love of music theatre began with his experiences going to Broadway musicals. Following active duty in the Navy, which included being skipper of a river patrol Swiftboat (PCF) on the Mekong River in Vietnam, Kim spent 13 years in management/sales for the industrial coatings division of Benjamin Moore & Company. After working for 23 years as financial advisor for what is now Wells-Fargo Advisors here in Chicago, Kim retired as First Vice President–Investments in 2005. He was also a retired Captain in the U.S. Naval Reserve.
Dedication to the arts for Kim didn't stop with Porchlight. He served as a volunteer docent for the Frank Lloyd Wright Foundation at the Rookery building in downtown Chicago, and was a member of several social/arts clubs in town.
Kim's enthusiasm for where Porchlight could go was infectious. He was there when we needed him most – with generosity, support and humor. We will dearly miss his passionate leadership, his unbridled optimism, and the fabulous twinkle in his eyes.