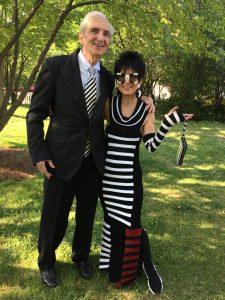 Never have we been more grateful for our devoted supporters than now. Elaine Cohen and Arlen D. Rubin have been a force at Porchlight Music Theatre for years. In addition to Elaine's promotional powers and Arlen's service on the Facilities Committee, they have enabled Porchlight to perform before record-breaking audiences at Washington Square Park events, they have personally supported the next generation of music theatre performers through their annual sponsorship of the New Faces Sing Broadway series. Their philanthropy has been incredibly inspirational and impactful for Porchlight and the many young "New Faces" who have been given a chance at the spotlight thanks to their generosity.
Thanks to Elaine and Arlen, Porchlight began inviting talent agents and casting directors to the New Faces Sing Broadway series to further the careers of these rising stars. Many of these artists have continued their careers on television, and local and national stages including Dawn Bless (Waitress-national tour), Katherine Bourne (School Girls; Or, the African Mean Girls Play at Goodman Theatre), Lydia Burke and Molly Kral (Porchlight's Sophisticated Ladies), and more!
To see more of this very impressive list click here.