Sunday, September 13 - 7pm CDT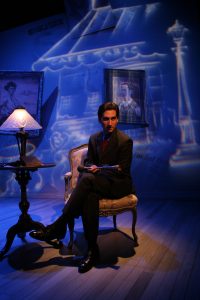 Buy Now
Music and Lyrics by George Gershwin and Ira Gershwin
Book by Hershey Felder
Directed by Stefano de Carli and Hershey Felder
Adapted from the Stage Play Directed by Joe Zwick
Porchlight is excited to announce the latest performance by Hershey Felder – George Gershwin Alone – Live from Florence, Sunday, Sept. 13 at 7pm CDT. Felder tells the incredible story of the author of more than 1,000 songs for the stage and screen as well as works for the opera house and the symphony orchestra in a way only Felder can!
Hershey Felder as George Gershwin Alone tells the story of America's great composer, who with the groundbreaking Rhapsody in Blue, made a "Lady out of Jazz." The show incorporates the composer's best-known songs from "The Man I Love" and "Someone to Watch Over Me," through the hits of An American In Paris and Porgy and Bess, to a complete performance of Rhapsody In Blue. As the only actor-musician to create the role of George Gershwin on the stage, and with over three-thousand performances, from California to Broadway to London's West End, for the first time, Hershey Felder will bring George Gershwin to life on the stage of one of Europe's oldest and most famous theatres.
Porchlight Music Theatre is a recipient of 50% of ticket revenue generated by sales from our efforts promoting this production. Please purchase tickets via the link above, and thank you to Hershey Felder for including Porchlight as a partner.
This is a third party presentation presented by Hershey Felder. Porchlight is not responsible for its content.
---
Ticket buyers will be sent an individual voucher two days prior to the live-stream that will allow viewing access. Additionally, patrons will have access to an on-demand recording of the live-stream, viewable for a full week following the broadcast (viewing access through Sunday, September 20th).
---
George Gershwin was born in 1898 to Russian-Jewish immigrant parents in Brooklyn. Together, he and his brother Ira wrote standards such as "The Man I Love," "Someone to Watch Over Me," "Embraceable You," "Fascinating Rhythm," "I Got Rhythm," "'S Wonderful" and "They Can't Take That Away from Me." His groundbreaking opera, Porgy and Bess, is now considered an American classic. All told, George Gershwin wrote more than 1,000 songs for the stage and screen as well as works for the opera house and the symphony orchestra. In 1937, Gershwin died of an undiagnosed brain tumor at the age of 38, never knowing how famous and beloved he and his work would become.
---
Frequently Asked Questions
Is this a family-friendly event? Yes, this is a family-friendly event.
How will I receive the LIVE STREAM Link?  Your LIVE STREAM LINK will be sent to you on Friday, September 11th, via the email you used to register for this event. If you do not see the email on.September 11th, check your spam folder.
What if I experience technical difficulties or am unable to view the LIVE STREAM? We are not responsible for technical difficulties on your home devices or any issues with your local broadband or wifi. However, there is online support available to help you as best we can. Contact events@hersheyfelderpresents.com for online support. Also, if you do have technical difficulties, please remember that your purchase includes the live stream AND an additional week of "on demand" viewing access to a video recording of the live stream (available one-hour after the live broadcast ends).
What if the LIVE STREAM buffers while I am watching? Don't worry – you can watch what you missed in the recording later. The recording will be available to you for 1 week after the event.
What's the refund policy? There are no refunds for this event.
Is my registration fee or ticket transferrable? No transfers or sharing.
May I give this as a gift or purchase access for multiple households? Yes, you may gift access to friends and family! To do so, you will need to make a separate purchase for each household and provide a different name and email address associated with that viewing household. The confirmation email will go directly to them.
How do I contact the organizer if I have questions? You can email events@hersheyfelderpresents.com with questions. We will get back to you as soon as possible and thank you for your patience.