Award-winning Porchlight Music Theatre announces the 2023 ICONS Gala, Porchlight's signature fundraising event will be held Friday, Sept. 8 at 5:30 p.m. at The Ritz-Carlton Chicago at Water Tower Place, 160 E. Pearson St. The ICONS Gala features the presentation of the 2023 ICONS Award to the legendary Ben Vereen+ and the 2023 Luminary Award to WGN's Paul M. Lisnek+ and also includes a cocktail reception, dinner and song and dance numbers, directed by Artistic Director Michael Weber+, highlighting Mr. Vereen's incredible career. Single tickets are $500 and table reservations are now on sale.
---

---
The ICONS Gala was launched in 2012 and many icons have been honored throughout its history including Hal Prince, Elaine Stritch, Bob Fosse, Ethel Merman and Fred Astaire among others. In 2020, the ICON Award was established to celebrate a notable artist who has made an indelible contribution to American entertainment and has since been presented to living legends Joel Grey+, Chita Rivera* and in 2022, Donna McKechnie*. Porchlight will welcome, in-person, the 2023 recipient of the ICON Award, Ben Vereen, to accept this award. 
The Luminary Award is bestowed annually at the ICONS Gala and this year it is presented to Paul M. Lisnek. This honor recognizes an outstanding individual, family or family foundation with a history of philanthropic and volunteer leadership on behalf of Porchlight and music theater in Chicago, and whose generosity inspires others to philanthropic action. Past honorees include Rick+ and Deann* Bayless and the Bayless Family Foundation, Elaine Cohen* and Arlen D. Rubin+, Jim Jensen+, Jean Klingenstein*, Dan Ratner+ and the Ratner Family Foundation.
"Porchlight is looking forward to welcoming Ben Vereen to Chicago to receive the ICON Award which he personifies on so many levels. Mr. Vereen is a living legend who has performed in almost every medium and is a true example of an icon," said Executive Director Jeannie Lukow. "And Paul Lisnek is someone who has supported Porchlight's productions and performers for years with his interviews, reviews, philanthropic efforts and his presence in the front row at our openings. We are thrilled to present these awards to two people who are so supportive of music theatre."
---
ABOUT BEN VEREEN, 2023 ICON AWARD RECIPIENT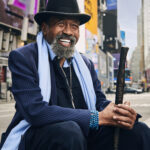 Over his nearly 60-year career, few entertainers today are as accomplished or versatile as Ben Vereen. As an actor, dancer, singer, instructor, spokesperson and more, Mr. Vereen has graced stages on Broadway and around the world as well as television, most notably as 'Chicken' George Moore in Alex Haley's landmark TV miniseries "Roots," for which he received an Emmy nomination in 1977, and film. On Broadway, Mr. Vereen has starred in Wicked, Fosse, I'm Not Rappaport, Hair, Jesus Christ Superstar, Pippin, Grind, Jelly's Last Jam and A Christmas Carol. His role in Pippin garnered him both the prestigious Tony Award and the Drama Desk Award for "Best Actor in a Musical". In addition to those accolades, he has received a number of awards for his humanitarian contributions including The Community Mental Health Council's "Lifeline Celebration Achievement Award", Israel's Cultural and Humanitarian Award,; three NAACP Image Awards, an Eleanor Roosevelt Humanitarian Award and a Victory Award. He has received honorary doctorates from the University of Arizona, Emerson College, St. Francis College and Columbia College in Chicago. In 2001, Medgar Evers College created the Ben Vereen Scholarship for the Performing Arts, and in 2004, he received an Achievement in Excellence Award from his alma mater, the High School of the Performing Arts. Mr. Vereen was the first simultaneous winner of the "Entertainer of the Year," "Rising Star" and "Song and Dance Star" awards from the American Guild of Variety Artists. He also has garnered a coveted spot in the Casino Legends Hall of Fame.
Mr. Vereen has also worked tirelessly to raise awareness for multiple causes including UNICEF and Abundance International's Ukraine efforts, diabetes prevention, drug rehabilitation, educational programs and inner city community-based projects, houseless support, arts advocacy and has served on the boards of Ballet Florida, the American Red Cross and Sudden Infant Death Syndrome Association. As a lecturer, he has become one of the nation's most requested speakers among audiences of all ages. 
---
ABOUT PAUL M. LISNEK, 2023 LUMINARY AWARD RECIPIENT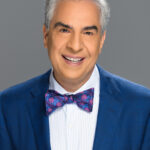 Paul Lisnek is a multi Emmy, Beacon, Telly, Cablefax and Communicator award-winning television personality. He anchors "WGN-TV Political Report" and is the political analyst for WGN-TV appearing on all of WGN's # 1 rated newscasts. He hosts the WGN Podcast "Paul Lisnek Behind the Curtain," featuring interviews with entertainment figures like Joel Grey, Lucie Arnaz, Anthony Michael Hall, Richard Thomas and Beth Leavel. He anchors "Newsmakers" and "Broadway in Chicago Backstage" where he sits with the casts of leading Broadway shows like Hamilton, Wicked, Paradise Square, Moulin Rouge and others. The Museum of Broadcast Communications is home to The Paul M. Lisnek Gallery, a permanent tribute to Lisnek's work in television and radio. He has written 15 books, including two works of fiction, Assume Guilt and Assume Treason, which was named an Indie Award Best Mystery of the Year finalist.
---
Please contact Development Director Evin Rayford at evin@porchlightmusictheatre.org for more information about sponsorship opportunities for the ICONS Gala 2023.
---
Pronoun Key: + he/him/his, * she/her/hers