Tickets
$350 for single tickets, $500 for VIP Meet & Greet
Porchlight Music Theatre is proud to announce that actor, singer, dancer Chita Rivera will be honored with The ICON Award and Rick & Deann Bayless and the Bayless Family Foundation will be presented with the Luminary Award at the 2021 ICONS Gala celebrating 26 years of Porchlight as the center for music theatre in Chicago, Wednesday, Oct. 20, at Galleria Marchetti, 825 West Erie.
Porchlight will be hosting the event in the outdoor tented pavilion with both heat & air conditioning as needed.
The ICONS Gala, chaired by Bill Kurtis & Donna La Pietra, begins at 5:30 PM and includes:
Cocktail Reception
Three-Course Dinner
Presentation of the ICON and Luminary Awards
NBC's Matthew Rodriques Emceeing the Event
On-stage Conversation between Ms. Rivera and WGN's Paul Lisnek
Musical Performances Saluting Ms. Rivera's Incredible Career
Salute to local Latino Civic Leaders
Live Auction
Single tickets will be available for $350. The VIP meet and greet tickets will be available for $500 per ticket and includes an exclusive cocktail reception with Ms. Rivera in attendance.

Sponsorships are available for $5,000, $10,000 and $15,000 by contacting Carmen Gonzalez at 773.777.9884 ext. 3. Proceeds from the ICONS Gala benefit Porchlight's artistic and youth education programs. The ICONS Gala returns to an in-person event from Porchlight Music Theatre's successful virtual gala, PorchlightPalooza, in August 2020. The evening will be filled with unforgettable moments from a live interview with Ms. Rivera and Paul Lisnek, the presentation of the Luminary Award to Rick & Deann Bayless and the Bayless Family Foundation, a paddle raiser and musical and dance salutes from Rivera's storied career performed by Porchlight and Chicago's impressive roster of talents, directed by Artistic Director Michael Weber. 
Explore Our Sponsorship Opportunities!
PLEASE NOTE: To attend the 2021 ICONS Gala, all guests must provide proof of vaccination at check-in. If guests are not currently vaccinated, proof of a negative PCR test result must be obtained within 72 hours of the ICONS Gala and presented at check-in. Additional information about our health & safety protocols for the 2021 ICONS Gala may be found here. 
---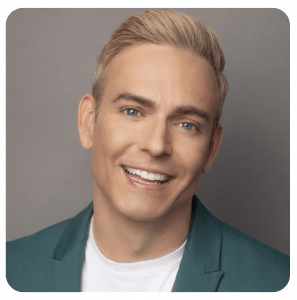 Matthew Rodrigues is currently the co-host of the brand new lifestyle show, Chicago Today, which airs on NBC5. This vibrant show highlights the very best Chicago has to offer in food, fashion, entertainment, adventure, parenting and more. In addition, he has traveled the world discovering, hosting and producing engaging video content for HotelTonight, Airbnb and Tastemade Travel. Whether sipping on the newest top-selling wine produced in Valle de Guadalupe, paddling in a 2000 lbs pumpkin turned boat in Portland, OR, or searching for the origin of the hamburger in Germany, Matthew's energy and expertise has helped millions of viewers uncover the fun in all adventures. For five years, he was known as the lead anchor and producer at the top independent media company for women, POPSUGAR. While there, he jetted to over 36 locations for the Hilton sponsored travel series, Find Your Happy, and served as anchor of the celebrity and lifestyle TV program, POPSUGAR Now.  During that time he interviewed A-List Hollywood stars and hosted live broadcasts from the Academy Awards red carpet. He's worked with leading names in the industry such as NBC, Tastemade Travel, HotelTonight, Hilton, Cirque du Soleil, CBS's The Talk, Wanderlust, ABC's The View and FOX.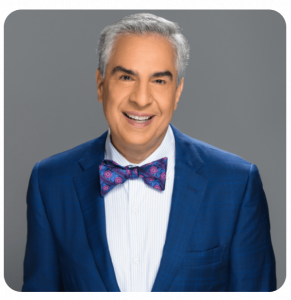 Paul Lisnek is a multi-Emmy, Telly, Cablefax and Communicator Awards winning television personality. He anchors WGN-TV Political Report and is the political analyst for WGN-TV. He hosts the WGN Podcast "Paul Lisnek Behind the Curtain," featuring interviews with entertainment  figures like Joel Grey, Lucie Arnaz, Anthony Michael Hall and My Three Sons brothers Stan and Barry Livingston. He anchors "Newsmakers" and" Broadway in Chicago Backstage" for the Comcast Network. The Museum of Broadcast Communications is home to the Paul Lisnek Gallery, a permanent tribute to Paul's work in television and radio. He has written 15 books, including two works of fiction, "Assume Guilt" and "Assume Treason," which was named an Indie Award Best Mystery of the year finalist.

"To say we are looking forward to the ICONS Gala is an understatement. We have missed these live events and to have our honorees Chita Rivera and the Bayless Family with us, in-person, makes the evening even more memorable." said Executive Director Jeannie Lukow. "We are so excited for attendees to join us in celebrating the work of our legendary honorees as we gear up for Porchlight's new season." The ICONS Gala is Porchlight's annual signature benefit and includes the presentation of the ICON Award that honors an individual who has forever changed the landscape of American music theatre. The Luminary Award is bestowed annually at the ICONS Gala.
This honor recognizes an outstanding individual, family or family foundation with a history of philanthropic and volunteer leadership on behalf of Porchlight and music theatre in Chicago, and whose generosity inspires others to philanthropic action. The Baylesses will join past honorees Jim Jensen, Jean Klingenstein and Elaine Cohen and Arlen D. Rubin.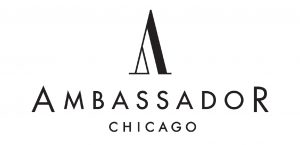 Ambassador Chicago is the official hotel of the ICONS Gala 2021.