January 26, 2018 – March 17, 2018
Box Office Phone: 773-777-9884 — Box Office Hours
"MUCH TO ENJOY"
– Chris Jones, CHICAGO TRIBUNE (read more)
"If you plan to see just one musical this winter — "Merrily We Roll Along" is the one to choose"
– Hedy Weiss, CHICAGO SUN-TIMES (read more)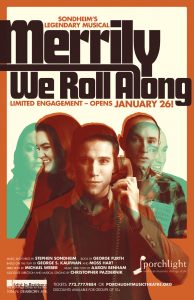 MUST CLOSE MARCH 17
Set over three decades of friendship and business, the landmark musical Merrily We Roll Along charts the highs and lows of a relationship among three very close friends. Starting from adulthood and traveling back in time to the idealistic intentions of youth, this powerful and emotionally moving story of looking at your life from the vantage point of having lived it features some of Stephen Sondheim's best known songs including "Good Thing Going," "Not a Day Goes By" and "Old Friends."
The cast of Merrily We Roll Along includes Porchlight Music Theatre Artistic Associate Matt Crowle (Charley Kringas), Jim DeSelm (Franklin Shephard), Neala Barron (Mary Flynn), Keely Vasquez (Gussie Carnegie), David Fiorello (Joe Josephson), Aja Wiltshire (Beth), and ensemble including Kyrie Anderson (Make-up Artist), Larry Baldacci (Mr. Spencer), Katherine Condit (Scotty), Christopher Davis (Terry), Andrés Enriquez (Tyler), Frederick Harris (Jerome), Michelle Jasso (K.T.), Bernell Lassai (Bunker / TV Newsman), Cisco Lopez (Minister), Alanna Lovely (Meg / TV Newswoman), Khaki Pixley(Dory / Girl Auditioning), Jonathan Stombres (Ru/ Nightclub Pianist), Liz Norton (Mrs. Spencer) and Zachary Fewkes and Asher Schenk alternating the role of Franklin Shepard, Jr.
Musicians for Merrily We Roll Along include Tony Scandora (percussion), Jackson Kidder (bass), Matt Beck (reeds #1: flute, oboe, clarinet, alto sax), Lara Regan (reeds #2: clarinet, alto sax, tenor sax, bass clarinet), Jered Montgomery (trumpet) and Matt Kowalski (trombone).
Members of the creative/production team of Merrily We Roll Along include Michael Weber (director), Christopher Pazdernik (associate director/musical staging), Aaron Benham (music Director, conductor, pianist), Bill Morey (costume designer), Anthony Churchill (projection designer),  Jeff Kmiec (co-scenic designer), Greg Pinsoneault (co-scenic designer), Robert Hornbostel (sound designer), Rachel West (master electrician), Alex Rhyan (production manager), Johnnie Schleyer (technical director) and Matt McMullen(stage manager).
Special thanks to David B. Brode whose gift helps underwrite the directors' work.
Meet the Cast Meet the Creative Team Reviews Videos