No events
There are no scheduled events. Please check back soon!
Box Office Phone: 773-777-9884 — Box Office Hours
April 29 – 7:30pm – SPACE, 1245 Chicago Avenue, Evanston
Metered and non-metered street parking available in the vicinity. There is also a small public garage with metered spots directly across the street from SPACE.
SPACE has a full bar with an exciting array of cocktails and an extensive beer list. While they do not serve food in our venue, customers are welcome to bring in pizza from Union, the restaurant located in front or dine there before hand.
April 30 – 7:30pm, with 6:30pm reception – The Arts Club of Chicago, 201 E. Ontario Street
Valet parking is available for $14. There are many wonderful restaurants in the vicinity.
---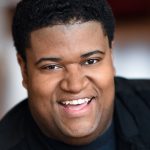 New Faces Sing Broadway NOW, hosted by Lorenzo Rush, Jr. will feature Darilyn Burtley, Satya Jnani Chavez, Nick Druzbanski, Cecilia Iole, Chloe Nadon-Enriquez, Kaimana Neil, Jerome Riley, Jr., Drew Tanabe, Trevor Vanderzee, and Aeriel Williams.
The tuneful and fun, audience-interactive evening that music theatre fans crave!
New Faces Sing Broadway takes you in a musical time machine from the start to the finish of one full season of Broadway. Peppered with photos and films of the era in an exciting multimedia presentation, trivia games with prizes, sing-alongs and more, a favorite celebrity host introduces you to the next generation of music theatre artists while serving as your guide to the stars, songs, and stories of a full season on the Great White Way!
Featuring hit songs from the 2019 Broadway shows:
Hamilton, Dear Evan Hansen, Disney's Frozen, Wicked, Waitress, Come From Away, Mean Girls, Disney's The Lion King, and others!

The New Faces Sing Broadway 2018–2019 series is sponsored by Elaine Cohen and Arlen Rubin