No events
There are no scheduled events. Please check back soon!
Box Office Phone: 773-777-9884 — Box Office Hours
Starring NANCY VOIGTS and MICHAEL WEBER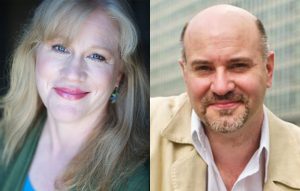 One of Porchlight's most popular offerings, Porchlight Revisits returns! Now in its fifth year, this special series brings together music theatre aficionados to visit three musicals that opened on the Great White Way but have since gone "unsung." The finest music theatre artists in Chicago dust off these neglected treasures and, fully staged with script in hand, escort you to the world of Broadway's past.
Originally created for the comic style of the great Phil Silvers and Nancy Walker, it's the story of "Hubie Cram," a minor-league con man endlessly scheming to win big who, at the urging of his long-suffering wife, "Kay," decides to go (somewhat) straight by moving into the jukebox and music promotion business as he concocts his biggest score ever. "Do Re Mi" Featuring the hits: "Make Someone Happy," "Fireworks" and "I Know About Love" with direction and choreography by Christopher Pazdernik and music direction by David Fiorello.
To enhance your experience, before every Porchlight Revisits production, audiences are invited to the "Behind the Show Backstory" multimedia presentation, created and hosted by Artistic Director Michael Weber, discussing that evening's production including the show's creative history, juicy backstage gossip and much more. Pazdernik will serve a special guest host for this edition of "Behind the Show Backstory."