Now Extended Through December 6!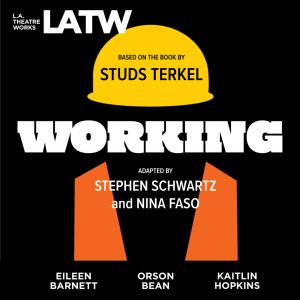 In a special collaboration with L.A. Theatre Works, Porchlight hosts the  first revised and updated version of this 1970s cult classic, based on the legendary book by Studs Terkel. With a cast of twenty Working is a rousing musical for anyone who has ever punched a clock, a cow or a supervisor—or wanted to.
This is the original audio theatre broadcast recorded before a live audience at the Skirball Cultural Center, Los Angeles in March 1999.
"Based on the best-selling book of interviews with American workers by Studs Terkel, Working explores the American workday from the Monday morning blues to a working person's pride in having 'something to point to'." — Stephen Schwartz
---
Once registered, you will have 72 hours to listen to Working via the link sent to your email. Porchlight Music Theatre is not responsible for any technical or connectivity issues not in our control.
Access codes, passwords, or other virtual entertainment links may not be transferred or shared.
If you have any questions or comments, please contact the box office via email at boxoffice@porchlightmusictheatre.org or by phone at (773) 777-9884. Box office hours are Tuesday-Friday from 10AM-2PM Central.
---
Porchlight Music Theatre is excited to present this production to you free of charge. If you value entertainment like this, we hope you'll consider a donation today. Your support allows us to continue offering a wide variety of digital content during this unusual season — all free or with low-priced options.
The suggested donation for Working is $25.
We appreciate your consideration.
---

By Studs Terkel
Adapted by Stephen Schwartz and Nina Faso
Songs by Craig Carnelia, Micki Grant, Mary Rodgers, Susan Birkenhead, Stephen Schwartz and James Taylor
Director: Scott Shwartz
Original Music by Dave Ossman, on piano, and John Harvey, on percussion
Cast: Eileen Barnett, Orson Bean, Harry Groener, Kaitlin Hopkins, Michael Kostroff, Kenna Ramsey, Vickilyn Reynolds, Vincent Tumeo and B.J. Ward with the chorus including  James Donato, Leilani Hays, Melissa Justin, Steve Kirwan, Linda Langford, Steve Lanter, Lynsey Shmukler Jones, Michael Shutt and Jodie Verdu
L.A. Theatre Works (LATW) was founded in 1974 to give voice to underrepresented groups, bring attention to new plays and playwrights, and produce plays that address critical historical, cultural and social issues. In the 1990's, LATW embraced audio recording in lieu of conventional theatrical presentation. Today, LATW is the nation's leading producer of audio theatre, producing world classics, modern masterpieces, contemporary and original works that speak to the issues of our times.
---
FREQUENTLY ASKED QUESTIONS
How will I receive the audio link?  Once registered, you will receive the audio link shortly after registering via the email you used to register for this event. If you have issues finding your link or email, please check your spam or promotions folder. This email will come from boxoffice@porchlightmusictheatre.org, with the subject line: "Thank you for registering for "Working!"
When will I be able to listen to the program? Your audio link will be sent to the email you used to register for this event shortly following your completed registration. Once you receive your link, you will have 72 hours to listen.
What if I experience technical difficulties or am unable to listen to "Working?" We are not responsible for technical difficulties on your home devices or any issues with your local broadband or wifi. However, there is online support available to help you as best we can. Contact boxoffice@porchlightmusictheatre.org for online support, or call us at 773.777.9884 (Click here for Box Office hours). Please remember that your audio link  will be available for 72 hours from the time it was sent.
What's the refund policy? This event is free of charge, with a suggested donation of $25. There are no refunds for this event.
Is my registration fee or ticket transferrable? No transfers or sharing.