Porchlight at Your School 
We have been a staple in the Chicago theatre community for 25 years and are excited to bring the gift of music theatre into your classroom! We love to see your students at the theater, working in your classroom at school, and on stage putting together a musical of their own.
Sing Out! — In School Residencies
Porchlight Music Theatre's signature in school literacy residency
"Sing Out!", focuses on building confident readers and writers while developing collaboration and communication skills.Our Teaching Artists guide your class over several weeks, ending in an original musical presentation. Grades 6-12 can be accommodated.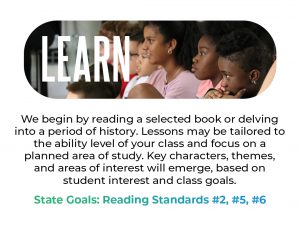 Sing Out! Residencies Focus On:
Reading/exploring a subject or book for full comprehension
Vocabulary expansion and public speaking practice
Creative and collaborative expression
Social/Emotional Learning– working in small and large groups, building self-confidence and creative thinking
Appreciation for theater and music as a means to tell a story
All residencies begin with a pre-planning consultation between Porchlight Education Director, Rebeccah Singer, and the classroom teacher(s) to determine topic or book and schedule.
The Teaching Artists will then come to you to work out a plan to best work with your students.
Reach out to rebeccah@porchlightmusictheatre.org for more details and to schedule.
---
Student Groups at Porchlight's Mainstage
We love seeing your student group at our main stage productions! The Ruth Page Center for the Arts is wheelchair accessible with convenient restrooms on both the main floor and balcony level. Bus drop-off available directly in front of the theatre.
Students can attend a school performance for just $5 a ticket! 
For more information or to bring your group to the theatre, reach out to rebeccah@porchlightmusictheatre.org to set it up!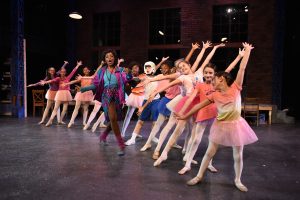 Funding Resources
We know that funding is often the greatest obstacle when trying to bring your students on a field trip. Here are some resources we've heard about from educators like you to help bring your students to see live theater.
Goodsearch & Goodshop: GoodSearch is a search engine which donates 50% of its revenue to the charities and schools designated by its users. You use GoodSearch exactly as you would any other search engine. In 2007, GoodSearch was expanded to include GoodShop, an online shopping mall of world-class merchants dedicated to helping fund worthy causes across the country. Each purchase made via the GoodShop mall results in a donation to the user's designated charity or school – averaging approximately 3% of the sale, but going up to 20% or even more.
Ingenuity Creative Schools Fund: The Creative Schools Fund is a grant-making partnership between Ingenuity and CPS' Department of Arts Education to support the expansion of arts education in schools.
Please also reach out to rebeccah@porchlightmusictheatre.org if funding is an issue, as we are always looking for community partners to work with throughout the year!
---
Mainstage Masterclass – Pre or Post Show Workshops
Complete your students' experience with Pre and Post Show Workshops– we come right to you in your classroom! Workshops are 45-60 minutes in length.
Pre Workshops cover an intro to theatre, the themes and concepts of the show, and the process to create the show they are about to see.
Post Workshops cover use interactive activities to reinforce comprehension of themes with a more hands on approach to making theater themselves.
Add one or both your field trip experience. Prices vary depending on class size and duration and details are available by reaching out to rebeccah@porchlightmusictheatre.org.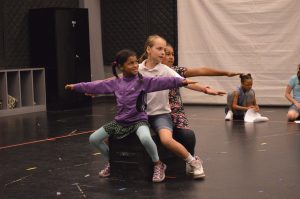 ---
Show School Guides
View our show specific School Guides to use with your students. All Guides written with Illinois Core Learning Standards for Grades 6-12 in mind.
Download Freaky Friday Study Guide
Interested in a virtual masterclass while classes are postponed or conducted virtually? We have virtual resources available for distance learning and can set up Q and A's, "live" Zoom masterclasses, and conversations with Chicago artists.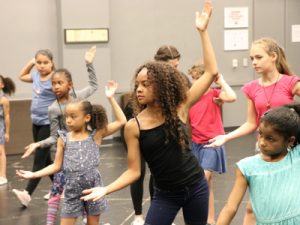 ---
Porchlight is proud to partner with Communities in Schools Chicago to provide no cost programming to students. Your generous donations help us provide these essential services.