Porchlight for the Professional
Porchlight for the Professional classes focus on musical theatre technique; dance, vocal performance, acting, and other industry topics.
NOTE: For the most up-to-date information on class cancellations or changes, please visit our Facebook Page. For additional information, contact Education Director Rebeccah Singer at rebecccah@porchlightmusictheatre.org.
Our Membership Card offers classes at a discounted rate. Each card is $100 and is valid for 10 classes.
Purchase Membership Card!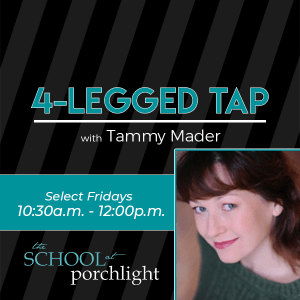 If you've pretty much mastered tapping on your own two feet, prepare yourself for the next frontier: 4-legged tap. You'll dance side-by-side, face-to-face and back-to-back. You'll step in and spin like a top. You will discover a new reason to love the time you spend in your tap shoes. Grab a partner and unleash your inner Fred & Ginger with 4-Legged Tap!
Psst Are you looking for engagement/hobbyist classes? Click here.
Want to work with Porchlight? Check out our available internships.