This event is now over. Stay tuned for more information on Chicago Sings 2018!
Chicago Sings is a one-night-only fundraising celebration honoring artists whose music has changed the world, presented by a who's-who roster of Chicago music theatre and cabaret favorites. This year's Chicago Sings pays homage to "Frank Sinatra & The Rat Pack" and also serves as the kick-off party to Porchlight's 2017–2018 season.
Directed by Keely Vasquez – Music Directed by David Fiorello
Featuring performances by Adrian Aguilar, Stephen Allen, Neala Barron, Brianna Borger, E. Faye Butler, Orlando Cabalona, Matt Crowle, Jim DeSelm, Dina DiCostanzo, Lucy Godinez, Sharriese Hamilton, Jacob Kaiser, Mark David Kaplan, Heidi Kettenring, Evan Tyrone Martin, Patrick Martin, Christine Mild, Andrew Mueller, Matthew Mueller, Eric Lewis, Rob Lindley, Yando Lopez, Hollis Resnik, Peggy Roeder, Alexis J. Roston, Kelvin Roston Jr, Lorenzo Rush Jr, Lincoln Seymour, Sawyer Smith and Brandon Springman.
Seating is limited and general admission. Doors will open at 6:30pm. 
Food & Beverage will be available at the venue, but not included in the price of your ticket.
See Chicago Sings from Sinatra's Booth!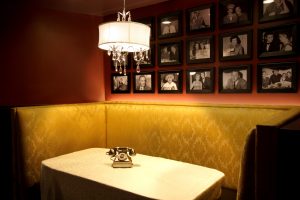 You and five friends could watch the show in style from your VIP seats in the world famous Booth One, Sinatra's private booth from The Pump Room in the Ambassador East Hotel, now at Second City's UP Comedy Club. And the first round's on us!
The winner will be announced by Porchlight via Facebook LIVE Monday, Aug, 28 at 11 a.m. at Facebook.com/PorchlightMusicTheatre
Seating limited to six people, all of whom must have purchased general admission tickets to the event. Raffle tickets can be purchased alongside general admission tickets.