A Special Message from Executive Director Jeannie Lukow and Artistic Director Michael Weber
You, our dedicated audiences and supporters, are essential members of the Porchlight family, and we hope that you are all safe and healthy at this time of great uncertainty.
We write to share some joyful news and an update for our Porchlight family. Today, March 20, 2020, is the 25th anniversary of the founding of Porchlight Music Theatre, a milestone of which we're tremendously proud. Even though our stage is temporarily dark, we remain deeply committed to our mission and to celebrating it soon with all of you.
As we now sequester ourselves at home, we are reminded – by its absence — of the vital role that live performing arts play in providing comfort, connection, meaning and inspiration, particularly during challenging times.
The past couple of weeks have been filled with the difficult but essential decisions to cancel our Chicago premiere of Disney's Freaky Friday and to pause for now the ICONS Gala and New Faces Sing Broadway 1987. While we were so looking forward to sharing these events with you, this is not a time for us to gather together.
The Porchlight staff is currently working remotely, and our days are filled with making preparations for our exciting 2020/2021 season.
Stay tuned to this page of our website for the latest programming updates, fun music theatre content from Porchlight, Broadway and more, and maybe even a trivia game or two. (You know we like our games at Porchlight!) We will also continue to connect online via eblasts and social media.
While we are all doing our best to adjust to the ever-changing situation, we honestly need your support now more than ever. If possible, here are some ways you can help:
Thank you for your continued support of Porchlight Music Theatre. We are eager to move beyond these challenges and share more smart, bold, and intimate musical experiences together. In the meantime, don't hesitate to reach out to us with any questions, concerns or suggestions you may have.
Our staff, board and artists can't wait until we are able to see you again at the theatre and greet you with a warm "welcome back."
Fondly,
Jeannie and Michael

---
An Update from Michael Weber
---
Introducing "Porchlight By Request!"
We asked some of our supporters to tell us their favorite show tune, then arranged for a favorite Porchlight performer to sing that request and share it with them and you!
---
Behind The Show Backstory
Join Artistic Director Michael Weber as he looks at the history of our upcoming productions in "Behind The Show Backstory!"
---
A Look Back at "Freaky Friday"
---
Porchlight Playlists!
Porchlight's Casting & Company Manager Christopher Pazdernik and his "near encyclopedic knowledge of musicals" put together these Spotify playlists just for you! Go go go and listen and feel free to dance along!
---
Honoring Long-Time Supporters Elaine Cohen and Arlen D. Rubin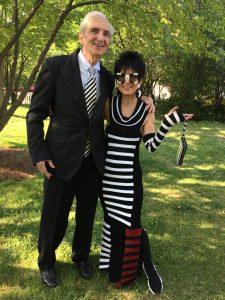 Never have we been more grateful for our devoted supporters than now. Elaine Cohen and Arlen D. Rubin have been a force at Porchlight Music Theatre for years. In addition to Elaine's promotional powers and Arlen's service on the Facilities Committee, they have enabled Porchlight to perform before record-breaking audiences at Washington Square Park events, they have personally supported the next generation of music theatre performers through their annual sponsorship of the New Faces Sing Broadway series. Their philanthropy has been incredibly inspirational and impactful for Porchlight and the many young "New Faces" who have been given a chance at the spotlight thanks to their generosity.
Thanks to Elaine and Arlen, Porchlight began inviting talent agents and casting directors to the New Faces Sing Broadway series to further the careers of these rising stars. Many of these artists have continued their careers on television, and local and national stages including Dawn Bless (Waitress-national tour), Katherine Bourne (School Girls; Or, the African Mean Girls Play at Goodman Theatre), Lydia Burke and Molly Kral (Porchlight's Sophisticated Ladies), and more!
To see more of this very impressive list click here.
---
Happy 90th Birthday Stephen Sondheim!
In celebration of Sondheim's 90th, we look back at some of our previous Sondheim productions! See our full playlist below!
---
"After All of This and Everything"
Thank you to Cory Goodrich, who hosted our "New Faces Sing Broadway NOW" and was slated to star in "Freaky Friday," for allowing us to share this video.
"After all of this and everything kid, We'll be okay."
---
Celebrating 25 Years!
---
Take a chance for a young performer to win a FREE SCHOLARSHIP  to one of our 2020 Musical Theatre Summer Camps!
We know how important it is to stay active and keep your creative juices flowing, so we're putting out a call for submissions to rewrite the lyrics from a music theatre song. This is a task for a future Sondheim or Lupone of any age!
Our Education Director Rebeccah Singer wrote the following to the tune of "Omigod You Guys" from Legally Blonde: 
Wash the palm and the back you guys! 
Most people do the front, but not the sides! 
Get under the nails and remember to clean off both your thumbs,
Wash your finger guns.  
Wash way more than you think you should
It's the best way we can all do good
Scrub for 30 seconds and remember to dry with something clean
See that sparkly sheen!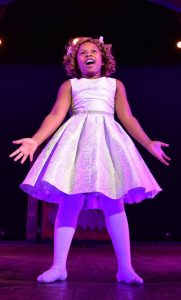 We know that you can do So Much Better, so grab a pen and choose from: 
"All That Jazz" from Chicago
"My Favorite Things" from The Sound of Music 
"Hard Knock Life" from Annie
"I Dreamed a Dream" from Les Miserables
Extra points if your song mentions: 
Washing Your Hands
Social Distancing, or 
What you've been up to while you've been staying inside. 
To ENTER your Young Performer to win a scholarship, simply share your song parody with @PorchlighMT and use the hashtag #PMTSummerCamp!
2020 Musical Theatre Summer Camp is scheduled for July and August, eligible participants will be within the ages of 7 – 17 years old.