PORCHLIGHT MUSIC THEATRE ANNOUNCES
THE CAST AND CREATIVE TEAM FOR
BILLY ELLIOT THE MUSICAL, OCTOBER 6 – NOVEMBER 19 AT THE RUTH PAGE CENTER FOR THE ARTS
Porchlight's 23rd Season at its New Home Launches with Elton John's and Lee Hall's Inspirational Story of a Boy Who Trades Boxing Gloves for Ballet Shoes, Directed and Choreographed by Brenda Didier with Associate Choreographer Craig V. Miller and Music Direction by Linda Madonia
CHICAGO – Porchlight Music Theatre and Artistic Director Michael Weber are proud to announce the first mainstage production it its 2017 – 2018 season Billy Elliot the Musical, music by Elton John and book and lyrics by Lee Hall, with direction and choreography by Porchlight Artistic Associate Brenda Didier, with Associate Choreographer Craig V. Miller and music direction by Porchlight Artistic Associate Linda Madonia at Porchlight's new home, the Ruth Page Center for the Arts, 1016 N. Dearborn Street. Previews are Friday, Oct. 6 and Oct. 13 at 8 p.m., Saturday, Oct. 7 and Oct. 14 at 8 p.m., Sunday, Oct. 8 at 2 p.m., Monday, Oct. 9 at 7:30 p.m., Thursday, Oct. 12 at 7:30 p.m. Opening night is Sunday, Oct. 15 at 6 p.m. The regular run performance schedule is Thursdays at 7:30 p.m., Fridays at 8 p.m., Saturdays at 4 p.m. and 8 p.m. and Sundays at 6 p.m. (October 22, October 29 and November 5) and at 2 p.m. (November 12 and 19) with an open captioned performance, Saturday, Oct. 28 at 4 p.m. and a weekday matinee Thursday, Nov. 16 at 1:30 p.m. Please note: there is no 7:30 p.m. performance Thursday, Nov. 16. Tickets are $33 – $60 and available at PorchlightMusicTheatre.org or by calling the Porchlight Music Theatre  box office, 773.777.9884
Billy Elliot the Musical is based on the 2000 film "Billy Elliot" and features music by Elton John with book and lyrics by the film's screenplay writer Lee Hall. Winner of both the Tony Award and Olivier Award for Best Musical, Billy Elliot the Musical is an inspirational story set in an English mining town during the miners' strike of 1984-85. Billy Elliot takes a journey from the boxing ring to a ballet class to make his dreams come true while challenging the long held beliefs of his hometown. Along the way, he discovers a passion for dance that unites his family, inspires his community and changes his life forever.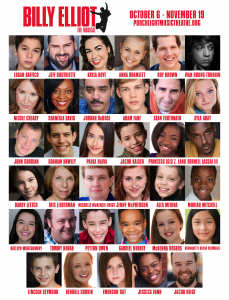 The cast of Billy Elliot the Musical will be the largest in Porchlight's history and includes Jacob Kaiser and Lincoln Seymour sharing the title role of "Billy Elliot;" Shanésia Davis*, "Mrs. Wilkinson;" Sean Fortunato*, "Dad;" Iris Lieberman*, "Grandma;" Adam Fane, "Tony Elliot;" Peyton Owen, "Michael Caffrey;" Nicole Cready, "Mum;" "Princess Isis Z. Lang, "Debbie Wilkinson;" with Jordan DeBose, "George/Ensemble;" Gabriel Robert, "Small Boy;" John Gurdian, "Big Davey/Ensemble;" Michelle McKenzie-Voigt, "Lesley/Ensemble;" Jeff Bouthiette, "Scab/Posh Dad/Ensemble;" Tommy Novak, "Mr. Braithwaite/Ensemble;" Ivan Bruns-Trukhin,"Older Billy/Ensemble;" Bernell Lassai III, "Pit Supervisor/Ensemble;" Logan Baffico, "Posh Boy;" Alejandro Medina, "Tall Boy;" Jessica Vann, "Clipboard Woman/Ensemble;" Graham Hawley, "Accordion Player/Grandma Dancer/Ensemble;" Jacob Voigt, "Ensemble;" Roy Brown, "Ensemble;" Jenny McPherson, "Ensemble/Grandma Dancer;" Kayla Boye, "Ensemble;" and Darby Leetch, "Alison Summers;" Moriah Mitchell, "Keeley Gibson; Paula Hlava, "Angela Robson;" Anna L. Bramlett, "Julie Hope;" McKenna Rogers, "Karen Davidson;" Emerson Tait, "Sharon Percy;" Katelyn Montgomery, "Margaret Gormley;" Kendall Sorkin, "Tina Harmer;" Ayla Gray, "Tracy Atkinson" and Bernadette Olivia Schwegel, "Susan Parks."
Additional members of the creative/production team of Billy Elliot the Musical include Porchlight Artistic Associate Bill Morey, costume designer; Denise Karczewski, lighting designer; Christopher Rhoton, scenic designer, Robert Hornbostel, sound designer; Mealah Heidenreich, props designer; Adrian Abel Azevedo, assistant director; Kayla Boye, assistant choreographer/dance captain; Sara Haverty, assistant to the choreographers/associate child supervisor; Sammi Grant, dialect coach; Jaq Seifert, fight choreography; Sean McStravick, stage manager*; Corey Boughton, assistant stage manager*; Matt Nadler, assistant stage manager; Shannon Desmond, assistant stage manager; Joaquin Gomez, child supervisor/ASM swing and Samantha Treible, wardrobe supervisor.
Musical Director Madonia conducts and is the pianist with musicans Justin Kono, drums/percussion; Cara Hartz, reeds; Sarah Younker, french horn; Greg Strauss, trumpet; Justin LaForte, guitar and Dan Kristan, electric bass.
*Denotes member of Actors' Equity Association
ABOUT BRENDA DIDIER, DIRECTOR/CHOREOGRAPHER
Brenda Didier, a Porchlight Music Theatre artistic associate, returns to Porchlight where she last directed and choreograhed In The Heights and the award-winning Dreamgirls. Didier is a multiple Jeff Award recipient in both direction and choreography, and the recipient of After Dark Awards, BroadwayWorld awards and the National Youth Theatre award. She is the proud owner and artistic director of the Lincolnshire Academy of Dance, celebrating its 20th season. Other credits include work at the Goodman, Chicago Shakespeare, Second City, Theatre at the Center, BoHo, Mercury Theatre Chicago, Theo Ubique Cabaret Theatre, Stage Left, Six Flags Great America, Busch Gardens Virginia, Cirque Shanghai at Navy Pier, T-Mobile's national commercial "Home for the Holidays," The Kenny Rogers Christmas Tour and the University of Illinois, University of Wisconsin and Carthage College.
ABOUT CRAIG V. MILLER, ASSOCIATE CHOREOGRAPHER
Craig V. Miller returns to Porchlight Music Theatre where he choreographed the Porchlight Revisits production Little Me and was the assistant choreographer for the Jeff Award-winning Ain't Misbehavin'. As a guest artist, he has performed with the Civic Ballet of Chicago's production of The Nutcracker, Esoteric Dance Project, Dance in the Parks, and Chicago Dance Crash. Additional choreography credits include: The Color Purple at Mercury Theater Chicago where he was the associate choreographer and won the Broadway World Award-Best Choreography in a Musical and Carl Neilsen's Maskarade (Vox3 Collective, choreographer). His work has also been presented at Dance Chicago, Dance Chance and Chicago Freelance Dance.
ABOUT LINDA MADONIA, MUSIC DIRECTOR/CONDUCTOR/PIANIST
Linda Madonia is a Porchlight Music Theatre artistic associate and has previously worked with Porchlight on Porchlight Revisits Little Me, A Funny Thing Happened on the Way to the Forum and Double Trouble. As a music director and conductor in the Chicago area for more than 30 years, Linda Madonia's recent credits include Mary Poppins and I Left My Heart: A Salute to the Music of Tony Bennett at The Mercury Theatre. Other credits include Grand Hotel and Nunsensations at Drury Lane Water Tower Place, and A Chorus Line, She Loves Me and Me and My Girl at Theatre at the Center and The Man Who Murdered Sherlock Holmes at Mercury Theatre Chicago. For the past nine years, Linda has been the music director for Chicago's Equity Joseph Jefferson Awards. Madonia also owns American Eagle Productions, a touring theater company that takes shows and workshops directly into schools. American Eagle has been doing shows for twenty-four years and presents 250 shows a year to Chicago area schools.
ABOUT SHANÉSIA DAVIS, "MRS. WILKINSON"
Shanésia Davis makes her Porchlight Music Theatre debut with this production. Recent credits include Baltimore Center Stage: Jazz and Intimate Apparel, Mark Taper Forum/ Goodman Theatre: Immediate Family (NAACP award nomination) and Congo Square's What I Learned in Paris, Brothers of the Dust. Other credits include South Coast Rep's Intimate Apparel; The Gift/Steppenwolf's Richard III; Court Theatre/American Blues Theater's Native Son; Steppenwolf's Our Lady of 121st St, One Arm, and The Glass Menagerie; The Goodman's Watermelon Rinds (Jeff nomination), Black Starline, Spunk, The Visit, Drowning Crow (Jeff/BTAA nominations). Davis' Film and TV credits include Early Edition, Cleveland Abduction, Empire, Chicago Fire, Crisis, Detroit 187, Chicago Hope, Missing Persons, Making a Case for Murder: The Howard Beach Story, Internal Rivals, Consumed, Damaged Goods, The Weatherman, Uncle Nino and Life Sentence.
ABOUT SEAN FORTUNATO, "DAD"
Sean Fortunato makes his Porchlight Music Theatre debut with this production. His recent credits include Cabaret at Theatre at the Center and Death of a Streetcar Named Virginia Woolf: A Parody at Writers Theatre. Other credits include The Diary of Anne Frank, Hedda Gabler, The Real Thing, Rosencrantz and Guildenstern are Dead, Travels with My Aunt, The Chosen, Incident at Vichy, A Phoenix Too Frequent, Richard II, Rough Crossing, Spite for Spite (Writers Theatre), 2666, Measure for Measure (Goodman Theatre), Spamalot, The Producers (Theatre at the Center), Pericles, Cyrano De Bergerac, School for Lies, Sunday in the Park with George and Timon of Athens (Chicago Shakespeare Theater), "Rene Gallimard" in M. Butterfly (Court Theatre), "Detective Cioffi" in Curtains (Drury Lane Theatre) and work at Northlight Theatre, TimeLine Theatre Company, Remy Bumppo Theatre Company, About Face Theatre, Marriott Theatre, Next Theatre and First Folio Theatre. Regional credits include Intiman Theatre (WA), The Old Globe (CA), The Duke on 42nd (NY) and twelve seasons with Peninsula Players (WI), where he played "George" in Sunday in the Park with George. His film amd TV credits include The Merry Gentleman directed by Michael Keaton and Chicago PD. Fortunato has received four Joseph Jefferson Award nominations and an After Dark Award.